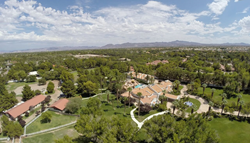 Pompano Beach, Florida (PRWEB) September 23, 2015
A Las Vegas casino owner's compound with security tunnels, bulletproof doors and secret rooms that Michael Jackson was rumored to buy before he died is going to auction and featured this week at TopTenRealEstateDeals.com.
"Las Vegas Primm Ranch"
Michael Jackson called it "Wonderland" and his daughter said it was "Candyland." The 10-acre compound in a Las Vegas neighborhood of celebrities and royalty (Wayne Newton and the Sultan of Brunei were neighbors) was designed to be a secure haven for a family and a place to safely enjoy their expensive hobbies. This was its appeal to Michael Jackson, who had sights on a Las Vegas residency show and, according to Las Vegas media, had toured the home several times. Jackson was planning on making an offer on the home when he returned from his "This Is It" London residency show scheduled to run through early 2010. However, Michael died just three weeks before the start of the tour.
Completed in 1994 for Nevada casino developer Gary Primm, the compound was designed for luxury, but security was Primm's biggest concern. Primm is a big-game hunter and car collector including the "Bonnie and Clyde Death Car" that he has displayed at several of his casinos. The home was completed soon after Las Vegas casino developer Steve Wynn's daughter was kidnapped from the kitchen of their Las Vegas home. Primm was worried about the safety of his own two children and designed the home with a 10-foot wall surrounding the property and three gates that can be controlled by the owner, eliminating the need for round-the-clock guards who might be bought off by a rival. Throughout are security tunnels, bulletproof doors, secret rooms with entries disguised as walls or cabinets and a panic room with an oxygen supply and separate underground phone lines.
The Primm Ranch includes a main estate house with 15,000 square feet, a guest villa, grotto villa, staff quarters, horse trainer quarters, equestrian barn, arena, pens and pastures, a dog villa, grotto pool with spa, waterfall and slide, all surrounded by lush lawns and palms. There is also a garage/car showroom that will house 20 cars with its own gas station for diesel and unleaded fuels, a car wash with deionized water and mechanic's lift. With a total living area of over 21,000 square feet, there are 10 bedrooms and 19 baths. Highlights include a beauty salon, trophy room with recorded animal sounds, driving range, 5,000-bottle wine cellar, theater, casino room, gym and sauna. The grounds include a greenhouse, outdoor kitchen adjacent to the pool with a bar and guest suite accessed under the waterfall, and a tennis court. Equestrian facilities include stalls for ten horses with training and riding areas. According to the estate's listing agent, Jackson planned on converting the home's underground shooting range into a recording studio.
Currently listed at $14.5 million, Primm Ranch will go up for auction on October 10th with no reserve. The company handling the sale is Concierge Auctions of New York City.
Visit TopTenRealEstateDeals.com for more celebrity, historic and spectacular homes.