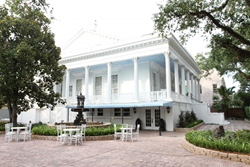 Pompano Beach, Florida (PRWEB) February 11, 2016
According to the real estate website TopTenRealEstateDeals.com, one of the most historic and prettiest homes in New Orleans with over 150 years of romance and ghosts is for sale.
"New Orleans Magnolia Mansion"
In a city famous for its fabulous food, music and art, New Orleans also has some of the most colorful homes in the world – many come with legends that are even more interesting than the homes. Encompassing everything from French Quarter cast-iron balconies and colorful court yards such as the Gardette-LePretre Mansion where a Turkish sultan and his harem were murdered in the 1870s to the Creole cottage owned by Priestess Marie Laveau whose voodoo performances attracted thousands of followers, the city includes over 20 National Register historic districts. One of the city's prettiest homes with a long history of romance, tragedies and a few ghosts is now for sale.
Magnolia Mansion, located in the historic Garden District, is one of the city's most photographed homes. An important example of Antebellum architecture, the home, also known as the Harris-Maginnis House, was designed in 1857 - the year of the city's first Mardi Gras parade. It was named several times by various publications as one of America's most romantic inns and by "USA Today" as one of the Top 10 Great Places to Sleep with a Ghost.
The mansion was designed by James H. Calrow for Alexander Harris and his child bride Lizzie Thompson. Harris and his three brothers were wealthy cotton brokers. Eleven years after the home was built, Alexander and his brother Aaron died of yellow fever - only 24 hours apart.
After her husband's death, Lizzie sold the house to another cotton king, John Henry Maginnis, but on July 4, 1889 John was struck by lightning and died. Some people said the lightning strike was payback for the poor working conditions in his cotton mill. John's daughter Josephine founded the New Orleans Chapter of the American Red Cross and donated the home to the charity in 1939. It was the New Orleans headquarters for the Red Cross for many years. In 2001, it was purchased by Tina Turner impersonator Hollie Diann Vest who turned the home into a bed & breakfast.
At 13,369 square feet, the Magnolia's architecture is classic Southern Plantation with 11 white Corinthian columns that support a massive wrap-around veranda, 15 bedrooms, 17 bathrooms, a ground-floor banquet area and three courtyards. It is just a short walk from the city's streetcar line, the French Quarter and many of the city's best restaurants and shops. It is zoned for commercial use so it can continue to be operated as a bed & breakfast or it could be converted back to a beautiful Southern family estate.
Though it is said that the home, like many of New Orleans' older mansions, might include a few ghosts, they do not convey in the sale price but would be considered under separate negotiation. Priced at $4.9 million. The listing agent is Anthony Posey of Anthony Posey Properties in New Orleans.
Visit TopTenRealEstateDeals.com for more famous, spectacular and celebrity homes and real estate news.