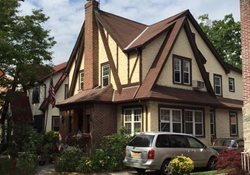 Pomapano Beach, Florida (PRWEB) August 01, 2016
TopTenRealEstateDeals.com covers July's important, interesting and unusual real estate news:
"Home Prices At Record Levels"
Median home prices in the United States have reached historic highs. The median-existing-home-sale price reached $236,400 in June, surpassing the previous record of $230,400 set in 2006. Homes are also selling at a faster clip - less than 30 days for 47 percent of June's sellers.
"Trump Childhood Home For Sale"
The New York City home in Queens where Donald Trump lived until age four is for sale at $1.65 million. The six-bedroom, five-bath, Tudor-style home includes a finished basement and hardwood floors.
"Florida Attracts 22% of International Buyers"
U.S. real estate purchases by foreign buyers declined from $103.9 billion in the April 2014 to March 2015 time period to $102.6 billion in the April 2015 to March 2016 time period. Florida condos and homes accounted for 22 percent of the transactions followed by California at 15 percent and Texas at 10 percent.
"Adam Levine's Cool SoHo Apartment"
Adam Levine's trendy SoHo loft just went on the market in April at $5.5 million. With 2,800 square feet and exposed brick walls in a cast-iron building dating back to the early 1900s, it is already under contract.
"Brexit Mixed Bag for U.S. Real Estate"
England's vote to leave the European Union is already having a significant effect on the United Kingdom's real estate market. It might be good news for U.S. real estate.
"Watergate Building Snatches $107 Million"
The infamous Watergate complex, where persons affiliated with Richard Nixon staged a break-in that eventually brought down his presidency, sold for $107 million.
"50 Cent Broke & Can't Sell House"
More problems for rapper 50 Cent: On top of his 2015 bankruptcy, 50 Cent reportedly can't sell his Connecticut mansion. He has reduced the price to $5.995 million from the original listing price of $18.5 million, according to reports.
TopTenRealEstateDeals.com delivers the latest scoop on today's hot real estate news - historic, famous, spectacular and celebrity homes currently for sale.