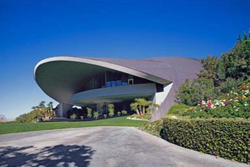 Pompano Beach, Florida (PRWEB) December 30, 2014
This month's most important, interesting and unusual real estate news from U.S. and world media now available at Top 10 News Headlines:
"America's Top 10 Most Popular Neighborhoods"
According to a Realtor.com analysis of real estate web searches by zip code, America's most popular neighborhood is in Orlando, Florida.
"Housing Recovery Sputters Along"
After a good October, sales of previously owned homes fell below expectations in November. Most of the U.S. home market regions are still below the peak price levels of 2005-2006.
"Futuro Houses Face Bleak Future"
Originally marketed as ski homes in the late 1960s, the spaceship-looking prefabricated plastic homes never really caught on. Less than 100 were ever built and only a few survive today.
"Joe Cocker's Colorado English Manor"
In 1992, Joe Cocker and his wife, Pam, bought a 240-acre tract of land in Crawford, Colorado. They built, not the usual ranch house, but instead an English country manor that would remind the ex-pat of his roots in Sheffield, England.
"Ozzie Nelson's Haunted House Sold"
One of Hollywood's first TV celebrities and long-running rumor is that the Los Angeles home where the Ozzie Nelson family lived and was the film location for the TV show is haunted. "Law & Order's" Christopher Meloni just bought it for $5.25 million.
"Dick Clark's Flintstone House Sold"
Dick Clark did it all! "American Bandstand" and "Dick Clark's New Year's Rockin' Eve," along with a myriad of radio shows, rock 'n roll tours and business investments. He also owned a very strange home that finally sold after over two years on the market and a 50% price reduction.
"President Ford's Ski Home For Sale"
President Gerald Ford's ski home in Beaver Creek, Colorado is for sale at $8.5 million. The first floor was originally designed for his Secret Service detail. The home's entry hallway includes the Seal of the President inlaid in the entryway floor.
"Top 10 All-Time Real Estate Movies"
Evil Mr Potter in "Its a Wonderful Life" was a slum landlord and Eddie Murphy was a real estate sales creep in Walt Disney's "Haunted Mansion." "The Real Deal" has the deal on the top 10 real estate related flicks.
"U.S. Most Expensive Homes – Alabama to Wyoming"
"USA Today" and Zillow have listed the most expensive homes for sale in all 50 states. North Dakota has the cheapest expensive home at $2.849 million while California has the #1 price at $195 million.
"Only 3% Down Buys a House"
In a new program, Fannie Mae and Freddie Mac will begin backing some home mortgages with just 3 percent required for a down payment. The program is targeting first time home buyers.
"Weird Homes For Sale"
Bob Hope's UFO home in Palm Springs, a Connecticut castle, and a mushroom house in Maryland are a few of the unusual homes currently for sale.
"67% of South Florida Pre-Construction Condos Sold"
According to CraneSpotters.com, out of approximately 17,665 pre-construction condos for sale in South Florida, about 12,000 (67 percent) have sold. Most of these are Miami condos.
"Slow Sales at NYC's One 57"
In 2013, billionaires were rushing to buy the best units at One 57, New York's newest condo tower with Central Park views and prices ranging from $20 million to over $90 million. Over half of the units were sold before construction even started. Things have slowed down quite a bit with only one sale in the September 2014 quarter.
"Top 10 Up & Coming U.S. Cities"
Pompano Beach, Florida was #5 of the "up and coming" cities listed on Trip Advisor's top 10 U.S. cities that are generating the most buzz and positive feedback from visitors.
"Europe's Biggest Mansion Is For Sale"
The largest home in Europe, about twice the size of Buckingham Palace, is for sale asking £7 million or about $11 million in US dollars. The home is in South Yorkshire, England.
"New York's Surging $10 Million Market"
Sales of New York City's $10 million condos and co-ops have soared in 2014, already at 56 units. This is an increase from the pre-2014 average of 21 sales per year in the $10 million up range.
"'The Godfather'" Movie House For Sale"
The Staten Island compound that was Don Corleone's movie home in "The Godfather," where Connie Corleone had her big wedding, and where the crime family hunkered down during the mob wars is for sale.
"Top 10 Ski Homes"
Curbed and Realtor.com have the ten most expensive ski homes in the United States. The homes are located in Utah, Montana, Wyoming, California and Colorado. The most expensive is priced at $35 million in Aspen.
Visit TopTenRealEstateDeals.com for more spectacular homes and real estate news.