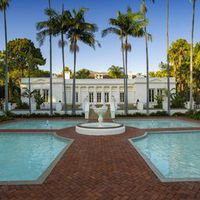 Pompano Beach, Florida (PRWEB) November 18, 2015
The "Scarface" home of Tony Montana that recently sold after 17 months on the market and a price drop of almost $23 million is featured this week at TopTenRealEstateDeals.com.
"'Scarface' Movie Mansion Sells"
The opulent mansion that was the fictional home of Al Pacino's character, Tony Montana, in the 1983 film "Scarface" has sold after 17 months on the market and a price drop of almost $23 million. Although the movie portrayed it as a Miami mansion, it is actually a 109-year-old home in Montecito, California. Its best known scenes were Tony's wedding to the cocaine-addicted beauty queen Elvira (Michelle Pfeiffer's break-out role) and where Tony made his bloody last stand with his M-16 "little friend" killing 42 assassins.
During the real estate crash, international investors were flocking to the U.S. to take advantage of rock bottom prices on everything from Kentucky horse farms to Florida condos. Russian-born financier Sergey Grishin (Facebook, Groupon and Farmville) bought the Montecito estate for a reported $20 million in 2008. Grishin waited until 2014 to put the Montecito home on the market at $35 million, but nothing happened. Months later, he dropped the price to $17.9 million. It finally sold for $12.26 million.
Known locally as El Fureidis (Tropical Paradise), the estate with its exotic Mediterranean-style villa and Persian gardens was a favorite Southern California postcard souvenir in the early 1900s and home to several species of rare palm trees. It was designed by Bertram Goodhue. He and the owner, James Waldron Gillespie, a wealthy New Yorker, traveled to the Middle East and Europe for a year looking for inspiration. They added Persian touches of gardens, fountains and accents including a Byzantine-style sitting room with an 18-foot domed ceiling decorated with a floral hand-painted, gold and blue design in 24k gold-leaf modeled after St. John Lateran in Rome. The barreled dining room ceiling is also finished in gold leaf and depicts a scene of Alexander the Great conquering Persepolis. The mansion has four bedrooms, nine bathrooms, a library, sitting room and a lounge. A large rooftop terrace provides 360-degree views of the Pacific Ocean, mountains and Channel Islands and makes an excellent venue for large scale entertaining.
"Scarface," written by Oliver Stone and directed by Brian De Palma, was released in December, 1983 to poor reviews and criticism for the film's violence. Despite the bad start, the film grossed $44 million and has become a cult favorite – one of the most popular movies of the last 40 years. "In this country, you gotta make the money first" was one of Tony Montana's famous "Scarface" quotes. Sometimes in real estate, it just takes a bit longer. The listing agency was Riskin Partners, an affiliate of Christie's International Real Estate.
Visit TopTenRealEstateDeals.com for more celebrity, historic, famous and spectacular homes.