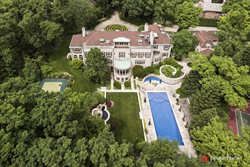 Pompano Beach, Florida (PRWEB) November 16, 2016
"Food Company Mansions For Sale"
With the holidays just around the corner and the grocery stores and markets with their colorful displays of baked goods and taking orders for turkey and fixins, it's time for food and festivities. Aside from being a prerequisite for basic survival, food provides comfort, a hobby for some, jobs for many, plays a large part in almost all social occasions and has brought great wealth to families that have created some of the most popular brands still in daily use. Five of these most popular brands accrued unimaginable wealth for people who founded these companies and their heirs. Today, their sumptuous mansions are for sale.
"Campbell's Soup Mansion"
John T. Dorrance, born in 1873, was a chemist who worked for his father in the family's preserve factory. It was there where he invented the formula for condensing soup. By 1914, he had started the Campbell Soup Company and ran it until his death in 1930, at which time it was passed down to his son. John's Pennsylvania mansion, Linden Hill, is now for sale.
The palatial estate is nestled on 50 private acres and consists of the French Normandy-style mansion 14,467 square feet. Included are eight bedrooms, ten baths, formal rooms, family and game rooms with extensive accommodations for guests. Asking $19.5 million.
"Ghirardelli Chocolate Mansion"
Listed at $5.3 million in May 2016, and recently closed at $4.65 million, the early 1900's Mission Revival-style mansion almost flew off the market. Much like the family's Ghirardelli chocolate products.
The 6,479-square-foot Ghirardelli Mansion has seven bedrooms and six baths, a third-floor apartment and a guest house above the two-car garage in Piedmont, California - a wealthy area of Oakland. Notable are original hardwood floors, coffered and arched ceilings with built-ins and woodwork displaying artful craftsmanship.
"The Oscar Mayer Mansion"
The family home of Oscar Ferdinand Mayer's son Oscar G. Mayer, Sr. has recently undergone a complete restoration and is now for sale. Mayer took over the sausage company in 1928 from his father, and was primarily responsible for the company's rapid growth from 200 to over 8,000 employees. He purchased the brick mansion in 1927 and lived there until his death in 1965.
Located in Evanston, Illinois' historic Lakeshore District, the 7,401-square-foot Oscar Mayer Mansion has huge rooms spanning its three floors with artful restoration of the original features. Priced at $2.8 million.
"Pabst Beer Mansion"
In 1936, Pabst Brewing Company president Harris Perlstein built the family mansion on two acres in the peaceful lakefront Glencoe bedroom community near Chicago. It is now for sale.
At 14,364 square feet, the Georgian-style Pabst Beer Mansion includes eight bedrooms, twelve baths, formal rooms, library with original walnut paneling and built-ins, media room, game room, updated cook's eat-in kitchen, sun room, large recreation/game room, elevator and multiple fireplaces throughout. Previously priced at $6.3 million, the price has recently been reduced to $4.595 million.
"Morton Salt Mansion"
Joy Sterling Morton, owner of the Morton Salt and Argo Starch brands, was a man with good instincts who was successful in several diverse ventures. In 1914, an elegant Lake Forest estate was built for his daughter Jean and her husband. It is now for sale.
Located in a bedroom community north of downtown Chicago and designed by the famous architect David Adler, the gated Morton Salt Mansion nestled on two acres measures 10,386 square feet and includes nine bedrooms and eleven baths. Priced at $4.9 million.
Visit TopTenRealEstateDeals.com for more real estate news.