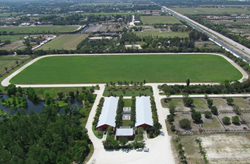 Pompano Beach, Florida (PRWEB) July 16, 2015
Tommy Lee Jones' Florida polo farm is for sale at $19.9 million and featured this week at TopTenRealEstateDeals.com.
"Tommy Lee Jones' Polo Ranch"
Tommy Lee Jones isn't just another handsome actor who made it good and gets to run in popular Hollywood circles. An eighth-generation Texan from oil country, Jones had an eye for getting a good education. He worked hard, was accepted for a scholarship to a nearby prep school and from there a Rhodes Scholarship to Harvard. At Harvard, it's not hard to become friendly with the world's future movers and shakers, and Jones found himself a roommate of future Vice President Al Gore. Jones and Gore enjoyed all the male-oriented perks of college life of chasing girls to joining a band to attract them. When fellow Harvard alumni, Erich Segal, later wrote "Love Story," Jones served as an inspiration for his main character, Oliver.
On graduation from Harvard, Jones went to New York and his career took off immediately from stage the first year to film in the second with a role in the "Love Story" movie he helped inspire. In 1980, Jones won his first Golden Globe for his role as Loretta Lynn's husband in "Coal Miner's Daughter." Jones has won some of Hollywood's most coveted roles including U.S. Marshal Samuel Gerard in "The Fugitive" for which he won an Academy Award and the western classic "Lonesome Dove" playing lawman Woodrow F. Call. Jones switched over to comedy in the "Men in Black" films with Will Smith that have done over $1.5 billion in movie business. Jones is also popular in Japan where he made 34 Suntory's Coffee TV commercials and a number of Japanese public service announcements.
For years a champion polo player, Jones has immersed himself in the sport with his own stables, ranches and polo fields in North and South America. His permanent residence is in Terrell, Texas just outside of Dallas. Fluent in Spanish, he has a house at a polo country club in Buenos Aires, a 3,000-acre cattle ranch in Texas and another ranch near Van Horn, Texas. He also has a polo farm in the upscale polo community of Wellington, Florida which he has listed for sale.
Wellington, just outside of Palm Beach is well known as the North American hot spot in the polo world with over 60 full-size polo fields and celebrity riders such as Prince William. Both Bruce Springsteen and Bill Gates have polo-playing daughters and homes in Wellington.
Jones has owned his San Saba Polo Ranch since 2002 with 55 acres, 48 horse stalls, its own regulation-size irrigated polo field, an exercise track, seven tack rooms, laundry, wash racks and separate equipment building. The property is surrounded by a lake with a waterfall and over 180 rare plants, a five-acre nature preserve, four bedrooms and two baths.
Originally listed at $26.5 million, Tommy Lee's polo complex is now reduced to $19.9 million. The listing agent is Martha Jolicoeur of Christie's International Real Estate in Wellington, Florida.
Visit TopTenRealEstateDeals.com for more celebrity, historic, famous and spectacular homes.