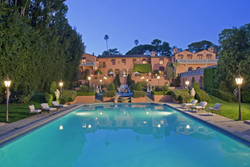 Pompano Beach, Florida (PRWEB) September 30, 2016
Celebrities are making real estate news in hot spots including Beverly Hills, Arizona and Miami.
"Gaga Buys Zappa Home"
Lady Gaga has purchased the longtime home of Frank Zappa. Zappa purchased the tudor-style home with recording studio in the 1970s and lived there until his death in 1993.
"Brangelina's Real Estate Empire"
Brad Pitt and Angelina Jolie are at the top of a long list of celebrity real estate collectors. Together and individually, they own seven homes in the United States and large properties in Cambodia and France.
"Sarah Palin Sells Mansion For Quick Profit"
Sarah Palin made a lot of money in just a few years selling for $2.275 million the Arizona mansion she bought in 2011 for $1.75 million. When she bought the home, speculation was that she would run for John McCain's senate seat in 2016, but McCain decided to run for his sixth term.
"JFK Honeymoon Mansion For Sale"
The Beverly Hills mansion that was a honeymoon site for Jacqueline and John F. Kennedy and famous scenes from both "The Godfather" and "The Bodyguard" is for sale.
"Your Very Own Nuclear Plant"
The Bellefonte Nuclear Facility in northern Alabama is up for auction. Construction on the electricity-producing plant began in the 1970s but was never finished.
"Al Capone's Miami Beach Mansion"
The Miami Beach compound that Al Capone bought in 1928, used as an alibi for the 1929 Saint Valentines Day Massacre and where he died in 1947 has been restored and available for photo shoots.
"America's Best Real Estate Markets"
The best cities to buy a home are in Texas. Based on economic factors in 300 U.S. cities, Texas took six of the top 10 spots with Frisco, Texas holding the #1 spot.
"Cheap Rent For Hef"
The Playboy Mansion sale has closed, sold for $100 million to Twinkies kingpin Darin Metropoulos. Included in the deal, Playboy founder Hugh Hefner gets to stay for the rest of his life.
"Florida Condos For Cars"
A Florida condo developer has plans to build climate-controlled condos for cars in Miami that will range in price from $350,000 to over $1.5 million.
Visit TopTenRealEstateDeals.com for more celebrity homes and real estate news.