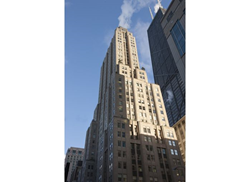 Pompano Beach, Florida (PRWEB) May 07, 2015
Vince Vaughn's Chicago bachelor pad penthouse, formerly owned by Hugh Hefner, is for sale and featured this week at TopTenRealEstateDeals.com.
"Vince Vaughn's Bachelor Penthouse"
Vince Vaughn, actor, screenwriter and producer grew up in the northern suburbs of Chicago, well known for his support of Windy City sports - especially the Chicago Cubs, Blackhawks and nearby Notre Dame Fighting Irish. His first movie role after TV jobs on "China Beach" and "21 Jump Street" was as the annoying third-string quarterback and bully nemesis of "Rudy" in the 1993 movie that launched Vince's film career. Although his early work was mostly straight rolls including "The Lost World: Jurassic Park" and "Return to Paradise," his agent had a number of comedy clients and Vince sort of fell into the genre. His most popular hits, including "The Internship," "Wedding Crashers," "Starsky and Hutch," and "The Break Up" with former girlfriend Jennifer Aniston, have each grossed over $100 million in U.S. box office.
Now age 45 with over 40 movie roles, Vince is switching type cast this year by moving to cable television with Colin Farrell and Rachel McAdams in HBO's "True Detective." It will be his first major non-comedy role in almost 15 years. Going back to film, his next movie role will be a remake of the James Garner character in "The Rockford Files." Vaughn's validation as a Hollywood star was recently cast in concrete on the Hollywood Walk of Fame. Joining in the ceremony were his wife, two children, pals and co-stars from some of his many films.
As a family man, Vaughn has a nice collection of family-oriented real estate in the Hollywood Hills and Manhattan Beach in California. However, when he was a bachelor back in 2006 in Chicago, he put his money into an iconic 1929 residence that was originally the Palmolive Building - headquarters of Colgate-Palmolive. It was Hugh Hefner's Playboy headquarters from 1965 to 1989 when it was known as the Playboy Building and the "Playboy" name lit up the Chicago skyline in 9-foot letters. In 2004, the building was converted to condos and the "Palmolive" name was restored. In addition to its Art Deco design and Gold Coast Magnificent Mile location, the building is known for its Charles Lindbergh rotating beacon that was added in 1930 to guide airplanes into Midway Airport. The beacon is still working but its light is now directed toward Lake Michigan so it doesn't bother the neighbors.
Vince's 12,000-square-foot, five bedroom, five bath Palmolive penthouse pad includes the top three floors of the 37-floor building. The lowest floor is devoted to the master suite and four other bedrooms. The second floor entry foyer opens to the formal living area, dining room and a kitchen with Verenna cabinetry, a butler's pantry, two built-in Sub-Zero refrigerators and a Wolf double oven and stove. The top floor is devoted to entertainment with media room, billiards and a full bar; Hugh Hefner's original office is located on the top floor. With 360-degree views around the lake and city, there are also multiple terraces, one of which has an additional outdoor kitchen.
Vince Vaughn's historic Chicago bachelor pad penthouse, formerly owned by Hugh Hefner, was originally priced at $24.7 million; now at $13.9 million. The listing agent is Katherine Malkin of Baird & Warner Real Estate in Chicago.
Visit TopTenRealEstateDeals.com for more historic, spectacular and celebrity homes.