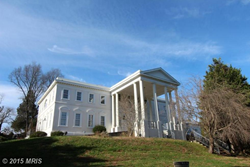 Pompano Beach, FL (PRWEB) January 28, 2016
According to the real estate website TopTenRealEstateDeals.com, America's current presidential candidates might want to consider buying a White House replica located just a few miles from the real thing. Now for sale at $3.25 million.
"Washington's Second White House"
Donald Trump, Hillary Clinton, Ted Cruz, Bernie Sanders and Marco Rubio can forget about the debates and never-ending campaigns and get to a White House that is just a few miles down the road - a replica of the real one on Pennsylvania Avenue. It even has an oval office.
The scaled-down version, taken from the blueprints of the original, has all the elements of the real White House and even a few extras, but the layout of the staff offices and other workaday wings and work areas were eliminated to make it more of a comfortable home. Its origin was a patriotic labor of love by a Vietnamese man who was working on his engineering doctorate in New Zealand in the early 1970s. However after completing his studies, it was impossible for him to go back to Vietnam due to the war. At that point, the United States took him in as a refugee. As he settled into his new life in a new country, he discovered how much he loved America. As he became successful in his field, he decided to build a replica of the people's house, the White House, as a tribute to his adopted homeland.
Located in McLean, Virginia, just outside the Washington, D.C. Beltway and home to many of the government workers who commute into the city daily, the easily recognized house is sited on 1.6 acres. The replica White House was built in 1995 with total square footage of 14,000 which includes 8,338-square-feet of living space with seven bedrooms and nine baths. The main level of the three-story home has marble floors throughout and a steel-reinforced marble staircase in the large foyer. Ceilings are 11-feet tall and the foyer moldings are exact duplicates of the original. Also included is the oval office, formal rooms, chef's kitchen, a gym, wine cellar, home theater, an elevator, a party room for 100 and six fireplaces. Upstairs are hardwood floors, bedrooms and the special Lincoln bedroom and bath with marble floor and walls. The lower level is a finished walk-out basement with windows and stairs to the main floor. The exterior has an attached three-car garage and a detached 1,500-square-foot storage building.
Less than a year away from the end of Barack Obama's eight years in office, instead of retiring to a Hawaii beach home, Florida condo or New York City apartment, a Virginia replica White House is for sale priced at $3.25 million. The listing agents are Cathy and John McCambridge of Samson Properties in McLean, Virginia.
Visit TopTenRealEstateDeals.com for more famous, spectacular and celebrity homes and real estate news.