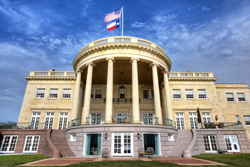 Pompano Beach, Florida (PRWEB) November 22, 2016
"Texas White House Going To Auction"
Many a bourbon and branch were sipped while gazing over the water on a warm summer's night from the Sterling Mansion in Morgan's Point, Texas. Guests at the historic mansion on the shores of Galveston Bay, also referred to as the First Texas White House, would have consisted of politicians, astronauts, family and the cream of Houston society. Many a soiree took place in its well appointed formal rooms spilling out onto the bay-front grand rotunda. When Texas' 31st governor, Ross Sterling, wanted to build a mansion befitting his status as the founder of Humble Oil and Refining Co. (Exxon), in 1924 he hired noted architect Albert Finn to design the 20,680-square-foot structure as a scaled down replica of the actual White House. Legend is that Sterling gave the architect a photo of the White House to use as his new home's model. Construction was completed in 1927.
To combat the Texas heat, the walls were constructed of 12-inch thick limestone that enclosed its 34 rooms. Sited on 6.36 acres on Morgan's Point with sweeping views of the water and freighter channel, Governor Sterling had palm trees and a small beach installed to create a tropical ambiance that could be viewed from the rotunda or from the roof terrace. Once the largest private residence in Texas, over the years it became well known for the extravagant events held there, including "Back to Earth" parties for astronauts returning from their missions in space. Much entertaining was done in the grand salon as well as the billiard room and parlors.
On both the National Register of Historic Places and the Texas Historical Commission, the home has nine bedrooms, fifteen baths, library, ballroom, large chef's kitchen, basement and media room. Other features include marble and oak flooring, pressed-tin ceilings, antique stone fireplace and gilded carved moldings. With original details carefully restored, the mansion has been updated to modern standards. Originally priced at $5.995 million with a later reduction to $5.499 million, the property will be going to no reserve auction on December 8th.
Visit TopTenRealEstateDeals.com for more historic, celebrity and spectacular homes and real estate news.