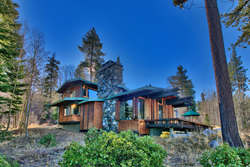 Pompano Beach, Florida (PRWEB) May 20, 2015
The Nevada movie home for "The Bodyguard" and "City of Angels" overlooking Fallen Leaf Lake and Tallac Mountain is now for sale at $7.995 million and featured this week at TopTenRealEstateDeals.com.
"The Bodyguard Movie House"
"The Bodyguard" featured the beauty and voice of Whitney Houston and the sultry sexiness of Kevin Costner. The evolution of the quietly passionate and guarded love that grew between them and the heartbreaking ending along with the thrilling storyline made it the second highest grossing film worldwide in 1992 at $411 million.
Though Lawrence Kasdan originally wrote the script in the mid 1970s for Steve McQueen and Diana Ross, it didn't come to fruition until 1992 with Whitney and Kevin. It was Houston's first film and the music appealed to most age groups, making it the best selling soundtrack of all time, ahead of "Saturday Night Fever," "Purple Rain" and "The Lion King." Today, many of the big singing competitions world wide use songs from "The Bodyguard" as the standard to measure the strength and range of the competitor's voices in "I Have Nothing," "I Will Always Love You" and "Run to You."
The movie's rustic house on Lake Tahoe's Fallen Leaf Lake where Houston's character, Rachel Marron, was in temporary hiding from her stalker is now for sale. Known as Tallac House, it oozes ambiance and warmth from its 76-foot dock where Costner dove into the icy winter water to save Rachel's son from an exploding boat. The home is all wood - no sheetrock used - and was also seen in the film "City of Angels."
With 197 feet of Fallen Leaf Lake frontage on 2.74 secluded acres, the house has over 3,000 square feet with five bedrooms, including three bunk rooms, three baths, balconies, a huge deck and views of the lake and Tallac Mountain from every room. Built in 1970 in collaboration with noted local architect Paul Hamilton, the property has stayed in the family since its inception making this the first time it has been offered for sale. A perfect vacation retreat or full-time home and ideal for entertaining, the home has vaulted ceilings accented by a massive rock fireplace, a three-car garage and the famed 76-foot pier from which to launch all types of water sports.
Tallac House, South Lake Tahoe's favorite movie set for "The Bodyguard" and "City of Angels," is now for sale for the first time since it was built with every room overlooking Fallen Leaf Lake and Tallac Mountain. Priced at $7.995 million. The listing agent is Doug Rosner of Chase International Real Estate in South Tahoe, Nevada.
Visit TopTenRealEstateDeals.com for more historic, spectacular and celebrity homes.