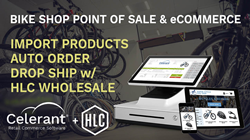 By integrating with HLC, bike dealers can streamline supply and fulfillment, enabling them to keep up with demand, provide quality products, and support customers more efficiently.
STATEN ISLAND, N.Y. (PRWEB) August 24, 2021
Celerant Technology, a leading provider of innovative retail solutions for the bicycle industry, today announces a new partnership and integration with HLC. HLC is a leading wholesale distributor in the bicycle industry servicing the United States and Canada. The integration connects Celerant's all-in-one bike shop point of sale and eCommerce software with the world's best cycling brands- enabling independent bicycle dealers to streamline inventory, manage their bike shop and online business, and fulfill customer orders faster and more efficiently.
"Retailers have so many obstacles to overcome on a daily basis, and keeping doors open during a pandemic and managing the increase in cycling business is a monumental task," stated Derrick Boatwright, Director of Commercial Innovation of HLC. "Getting the information you need from suppliers when you need it should never make that list of challenges. HLC is proud to partner with Celerant to make business simple. Using HLC's data and logistics infrastructure and Celerant's omnichannel retail software, we are excited to offer automation for Celerant customers using HLC as a preferred supplier. Our new integration allows retailers to automate HLC's catalog, inventory, and even send orders through to HLC to be fulfilled directly to the consumer using HLC's Doorstep Delivery services."
HLC offers products from over 200 of the industry's best brands, such as SRAM, Michelin, Garmin, Pirelli, Tacx, Maxxis, Kuat, and Muc-Off. Celerant's point of sale has direct access to HLC's catalog; dealers can import products in bulk to populate their retail database quickly, maintain the latest product data, and eliminate data discrepancies resulting from manual entry. Celerant also includes a multi-level classification structure to help dealers organize products by department and sub-departments such as bicycles, wheels, tires, handlebars, seats, tools, accessories, apparel and more.
Through the integration, dealers can also order inventory from HLC. Purchase orders can be easily created and sent to HLC, electronically, from within Celerant's back-end software. Orders can be automatically generated and sent to HLC based on min/max inventory levels set within the retail system to help dealers streamline their ordering process.
Through Celerant's integration with HLC, orders can be fulfilled faster and easier. For approved dealers, online orders placed on Celerant's eCommerce platform can be routed to HLC's warehouse and drop shipped directly to the consumer, with an advanced shipping notice (ASN) sent to the dealer. Coming soon, dealers will have the ability to pull and display HLC's 'online product feeds' and images on Celerant's eCommerce websites and in store kiosks.
"As a preferred retail software provider for the National Bicycle Dealers Association, we are excited to now partner and integrate with HLC," stated Michele Salerno, Director of Marketing at Celerant Technology. "By integrating with HLC, bike dealers can streamline supply and fulfillment, enabling them to keep up with demand, provide quality products, and support customers more efficiently."
Celerant's integration to HLC is available for Cumulus Retail™, a cost-effective, SaaS solution for smaller dealers; and Stratus Enterprise™, a comprehensive solution with advanced features. Celerant's Summer Promotion, now extended through September, offers first 3 months free when switching to Celerant's point of sale and/or eCommerce solution. To learn more and view pricing, visit http://www.celerant.com/HLC-Promo.
About Celerant Technology
Celerant Technology is an innovative retail software provider, ranked on the RIS LeaderBoard as a top-3 provider for 8 consecutive years. As a preferred software provider for the NBDA, Celerant supports bicycle retailers through point of sale, rentals, repairs/work orders, inventory management, auto ordering, promotions, loyalty rewards, eCommerce, marketplace integrations (i.e., Amazon, eBay, Walmart, Facebook, Everest.com), integrated email marketing, and more. To learn more, subscribe to our blog- http://www.celerant.com/blog.
About HLC
HLC is a leading distributor of bicycles, parts and accessories in North America. With headquarters in Levis, Quebec and Lexington, South Carolina the company has the largest IBD reach on the continent – servicing more than 5,500 retailers with 70 sales representatives and 4 regional distribution centers. For more information, please visit https://www.hlc.bike/.