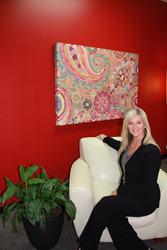 "I hope to inspire people to not only donate for Easter but to get involved by organizing their own Soles4Souls shoe drive and help wear out poverty.
Murfreesboro, TN (PRWEB) March 03, 2016
Celeste Middleton's State Farm office, located at 803 N. Thompson Lane, Suite 102 B, Murfreesboro, TN, is an official drop-off location for Soles4Souls where she is collecting new and gently worn shoes for people in need. "I want to encourage the public to help in the collection of shoes so that we can send them before Easter," said Celeste. "Everyone deserves a good pair of shoes, as each day children around the world are prevented from attending school and adults are unable to work as walking becomes unbearable due to a lack of shoes."
The vision of Soles4Souls is to eradicate extreme poverty by 2050. To achieve this goal, Soles4Souls monetizes used shoes and clothing to create sustainable jobs, as well as fund direct relief efforts, which include distribution of new shoes and clothing throughout the world. To date, Soles4Souls has collected and distributed more than 26 million pairs of shoes to people in need in 127 countries around the world and all 50 states in the U.S.
"Every pair of donated shoes counts, and creates a sustainable way for people to lift themselves and their families out of poverty," said Celeste. "I hope to inspire people to not only donate for Easter but to get involved by organizing their own Soles4Souls shoe drive and help wear out poverty."
For more information about getting involved with Soles4Souls or to become an official drop-off location, visit https://soles4souls.org/get-involved/.
About Soles4Souls
Soles4Souls advances its anti-poverty mission by collecting new and used shoes and clothes from individuals, schools, faith-based institutions, civic organizations and corporate partners, then distributing those shoes and clothes both via direct donations to people in need and by provisioning qualified micro-enterprise programs designed to create jobs in poor and disadvantaged communities. Based in Nashville, TN, Soles4Souls is committed to the highest standards of operating and governance.
About Celeste Middleton, State Farm
In addition to auto, home, life and long-term health insurance, Celeste Middleton, State Farm Agent, offers annuities and financial products. This agency focuses on customers who relocate and move to Tennessee from other states. Some people may believe insurance is boring and automated, but at Celeste Middleton's agency, they create a positive and energetic atmosphere that will leave their clients with a smile. For more information, please call (615) 895-2700, or follow Celeste on Facebook.
About the NALA™
The NALA offers small and medium-sized businesses effective ways to reach customers in the digital age, while providing a single-agency source that helps them flourish in their local community. The NALA offers its clients an array of marketing tools from press release campaigns and social media management to a cause marketing program. The NALA's mission is to make businesses relevant and newsworthy, both online and through traditional media, by providing increased exposure at reasonable costs. For media inquiries, please call 805.650.6121, ext. 361.