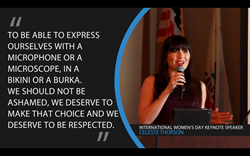 "We must use every asset that is at our fingertips, especially technology to express our free speech and stand up for what we believe in." Celeste Thorson
Los Angeles, CA (PRWEB) March 31, 2015
Activist and filmmaker Celeste Thorson shared high-tech and low-tech ways to promote women's rights as the keynote speaker for the UN WOMEN SoCal 10th Annual International Women's Day celebration during Women's History Month. Thorson spoke about technical literacy and the importance of using technology to mobilize the public to utilize their freedom of expression for the greater good. Her speech included topics like the importance of supporting female presidents and leaders, workplace equality, the HeForShe campaign, legislation protecting women's rights, and the use of free speech to contact representatives through the phone, mail, and internet. The actress, writer, and director spoke about using art as a tool for empowerment and communication. Thorson also invited audiences to "Join this army of women online speaking out for their rights."
"To be able to express ourselves with a microphone or a microscope, in a bikini or a burka. We should not be ashamed, we deserve to make that choice and we deserve to be respected." said women's rights advocate Celeste Thorson. "We must use every asset that is at our fingertips, especially technology to express our free speech and stand up for what we believe in."
A four minute video with highlights of Thorson's fifteen minute speech is available on YouTube.
https://www.youtube.com/watch?v=h5zZKjpILB4
Details on the event including quotes, images, the highlights video, and a transcript of the speech is available via http://www.CelesteThorson.com and Thorson's blog. Celeste donated One Woman postcards to encourage attendees to write down wisdom to be shared with the global audience online. Pictures of the handwritten wisdom and advice are also available on Thorson's blog.
http://celestethorson.blogspot.com
Thorson has been an advocate for human and environmental rights for over 15 years. She started supporting non-profit organizations on a grassroots level by fundraising, sharing petitions, and raising awareness. Thorson has taken her activism from the street to the internet where she reaches millions of fans and followers online. Thorson frequently circulates petitions and promotes global awareness for issues like human rights, equality, animal rights, and environmental conservation through the internet.
About Celeste Thorson:
American filmmaker Celeste Thorson has been an actress on television shows like HOW I MET YOUR MOTHER, JIMMY KIMMEL LIVE!, and THE EXES. Thorson has also been a screenwriter for 45 episodes of television. Celeste Thorson is currently working on the feature film BOOK OF MUSES. Thorson promotes grassroots and social media activism by sharing petitions and ways to take action via CelesteThorson.com, Facebook and @CelesteThorson on Twitter.