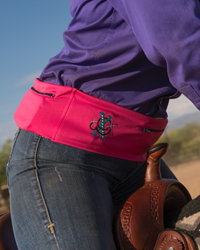 Cell-Fie endorsed by Mustang Trainer, Wylene Wilson. Wylene loves Cell-Fie HipBand Cellphone holder for riding and everything else!
Key West, FL (PRWEB) May 07, 2014
Everybody's favorite hipband cellphone holder, the Cell-Fie™, by Nifty-Nifty, just got a little Niftier, as it is now available in even more gorgeous colors.
Nifty-Nifty.com, maker of innovative, as seen on TV, hands-free fashion accessories, is pleased to present consumers with their phenomenal, NEW, Cell-Fie Hipband Cellphone Holder color options.
Cell-Fie Hipband Cellphone Holder, the preferred cell phone holder of celebrity Mustang Trainer, (Extreme) Wylene Wilson, is the same, reliable, hip-hugging cell phone/wallet holder consumers have come to love, now available in a bonanza of creative new colors and patterns including; Cool Stripes, Grey Delicious, Shimmer Apple Green, Latte, Purple-Purple, and Night on the Town.
Wendy Miller, co-conspirator at Nifty-Nifty declares 'Cell-Fie is being adored everywhere around the world, and to endorse this success, we are extending our free shipping in the USA and Canada program, and we are offering worldwide shipping at a low flat rate of only $5.00. Can't beat that, can you!'
So, what the heck is a Cell-Fie anyway?
*http://www.nifty-nifty.com/cell-fie-best-hip-band-smartphone-cellphone-holder/
About the Cell-Fie™ HipBand Cellphone Holder:
Nifty-Nifty.com's Cell-Fie™ HipBand Cellphone Holder, is a stretchy, 2 zippered pocket, tubular waste band, which slips right over jeans, yoga pants, swimsuits, slacks, you name it. The twin pockets are large enough to fit one's cell phone, passport, wallet, keys, and other pertinent items, no problem. This comfortable cell phone holder stays securely in place, all day, at any activity level, is machine washable, and offers an utterly convenient, easily accessible way to carry all one's small belongings.
Be a trail-blazer. Order a Cell-Fie Hipband Cellphone Holder from Nifty-Nifty.com, today, and amaze at the wonderfully colorful convenience of going hands-free at the beach, ballpark, Laundromat, gym, mall, Mustang rodeo, or even right at home.
About Nifty-Nifty.com
Nifty-Nifty.com is the worlds leading online retailer of innovative, nifty products. The company specializes in online retailing of products such as the Specs In A Sec Magnetic Eyeglass Holders, Phubby, Cell-Fie HipBand Cellphone Holder, Biker Purses, Cross Body Cell Phone Purses, and other innovative online products at the best prices with no charge shipping in the USA and Canada.
http://www.Nifty-Nifty.com 
Tel: 858-248-2302