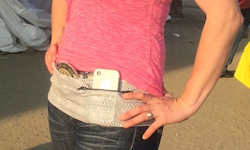 Runners, joggers, people who love exercising and those who hate carrying a purse are all going crazy for Cell-Fie HipBand Cellphone Holder
Phoenix, AZ (PRWEB) October 08, 2014
From Friday October 10th through Sunday November 2nd, 2014, attendees of the Arizona State Fair will be treated to Nifty-Nifty.com's up close and in person demonstrations of their top-selling Cell-Fie Hipband/Waistband Cell Phone Holder.
"We at Nifty-Nifty.com are extremely excited about the opportunity to share our celebrity-endorsed Cell-Fie Hipband Cellphone Holder at this year's Arizona State Fair in beautiful Phoenix", declares Nifty-Nifty.com co-founder, Wendy Miller. "Here, consumers will have an opportunity to see for themselves just what makes Cell-Fie THE must-have hands-free fashion accessory for guys and gals."
To find out more about Nifty-Nifty.com's Cell-Fie Hipband Cellphone Holder visit
*http://www.nifty-nifty.com/cell-fie-best-hip-band-smartphone-cellphone-holder/
The unisex hip/waistband cell phone holder, the Cell-Fie, is a stretchy, machine-washable, cloth band, equipped with 2 large zippered pockets, as well as one secret slot pocket. The zippered pockets are roomy enough to fit even the largest of cell phones with ease, as well as keys, wallet, cosmetics, insulin pumps, flashlight, doggy bags, shopping list, sports accessories, passport, art utensils - you name it!
This cell phone carrier is the perfect accessory for those who live active lifestyles and don't want to be bothered schlepping around a big, bulky bag. Plus, it's way cooler than the old, outdated fanny pack. In fact, this great looking cell phone holder is bold and innovative, and comes in all sorts of nifty colors and patterns, including; White, Black & White, Purple, Purple, Latte, Silver Gray, Radiant Red, and Navy.
The Cell-Fie Hipband Cellphone Holder is incredibly comfortable, too. It conforms beautifully to each individual's build, and as such, will never cinch or slide down; instead, it will stay securely in place, all day, at any activity level, providing top-notch security for one's cell phone and other small belongings.
Come to the Arizona State Fair, this year, and discover the latest, greatest way to carry one's cell phone safely, securely, and ever so stylishly – the Cell-Fie Hipband Cellphone Holder, by Nifty-Nifty.com.
About Nifty-Nifty.com    
Nifty-Nifty.com caters to a diverse clientele from all over the globe. As the world's leading online retailer of innovative, versatile products, Nifty-Nifty.com specializes in nifty products such as Biker Purses, Phubby wrist cellphone holder, Specs-in-a-Sec magnetic eyeglass holders, Cell-Fie HipBand Cellphone Holders and Cross Body Cell Phone Purses, among others. All products are offered at highly competitive prices with zero charge shipping in the USA and Canada.
http://www.Nifty-Nifty.com 
Tel. 858-248-2302