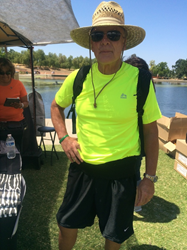 It seems the secret is out, and men want to experience the comfort and convenience of Cell-Fie Cellphone Holder, especially when traveling
Bloomfield Hills, MI (PRWEB) June 30, 2014
Nifty-Nifty.com, creators of 'As Seen on TV' hands-free fashion accessories, is thrilled that their products are being embraced by males and females alike. In particular, their incredible Cell-Fie Hipband Cellphone Holder, long favorited by females around the world, is now garnering maximum attention from male consumers as well.
"We've always enjoyed some degree of male based clientele - the Best Biker Bag being particularly popular with the fellas, but just recently, we've noticed a tremendous upsurge in men's consumerism in regards to our Cell-Fie Hipband Cellphone Holder," states Wendy Miller, Co-Founder of Nifty-Nifty.com. Miller adds, "It seems the secret is out and men want to experience the comfort, convenience and unbeatable small item access that ladies have been enjoying for some time."
Check out Nifty-Nifty.com's men-friendly Cell-Fie, here:
*http://www.nifty-nifty.com/cell-fie-best-hip-band-smartphone-cellphone-holder/
The Cell-fie is a stretchy, machine washable hipband/waistband cell phone carrier, that simply slips on and off in an instant. With 2 generously sized zip pockets and an additional secret slot-pocket, this updated rendition of the old fanny pack offers the epitome of practicality, for those with active lifestyles. Capable of fitting all one's necessary items, such as cell phone, keys, wallet, small tools, hair comb, passport, sunglasses, etc., the Cell-Fie affords its wearer the luxury of worry-free activities, all day long.
Available in small, medium, large and extra large sizes, as well as a plethora of exceptional colors, the Cell-Fie Hipband Cellphone Holder is an accessory no fashion-savvy consumer should leave home without.
About Nifty-Nifty.com 
Nifty-Nifty.com caters to a diverse clientele from all over the world. As the world's leading online retailer of innovative, versatile products, Nifty-Nifty.com specializes in nifty products such as Biker Purses, Phubby, Specs-In-A-Sec magnetic eyeglass holders, Cell-Fies and Cross Body Cell Phone Purses, among others. All products are offered at highly competitive prices with zero charge shipping in the USA and Canada.
http://www.Nifty-Nifty.com
Tel. 858-248-2302