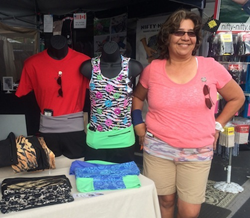 Cell-Fie Hipband Cellphone Holder continues to be a favorite item among trendy consumers, and we thought it high time to introduce another option, for those who are smaller than a size 4
Salt Lake City, UT (PRWEB) January 22, 2015
Nifty-Nifty.com, creators of celebrity-endorsed, hands-free fashion accessories, is pleased to introduce the newest size option in their Cell-Fie Hipband Cellphone Holder; Extra Small.
"Our Cell-Fie Hipband Cellphone Holder continues to be a favorite item among trendy consumers, and we thought it high time to introduce another option, for those who are smaller than a size 4", says Wendy Miller, co-founder of Nifty-Nifty.com. "We get a lot of parents with children at our craft fairs, who buy themselves a Cell-Fie, only to have their child retort, "I want one too!" "Our new Cell-Fie XS option is indeed the answer to keeping the entire family happy."
Just what IS a Cell-Fie? Find out, here:
*http://www.nifty-nifty.com/cell-fie-best-hip-band-smartphone-cellphone-holder/
Cell-Fie Hipband Cellphone Holder is the most innovative way to carry one's cell phone and other small belongings, safely, securely, and oh so stylishly. Touted as the "anti-fanny pack", this hip/waistband is the coolest way to remain hands-free, with all one's important items in tow.
The Cell-Fie, equipped with three spacious pockets, (two with zippers, one, a secret slot pocket) is made of a durable, stretchy material, which is machine washable. It's simple to use, as it slips on in seconds, and stays in place all day – never sliding down or cinching, and never losing its shape.
Cell-fie Hipband Cellphone Holder's pockets are roomy enough to fit even the largest cell phones comfortably, as well as wallet, passport, keys, sunglasses, writing utensils, sports accessories (such as golf tees and golf balls), doggy treats, you name it!
Perfect for those on the go, Cell-Fie Hipband Cellphone Holder is the right choice for busy moms, sports enthusiasts, students, artists, and anyone who enjoys the comfort and convenience of being hands-free.
Available in a several spectacular colors, including: Black, Black and White, Silver Gray, Navy, Radiant Red, Purple, and Latte - and now FIVE size options (from XS to XL) there is most certainly a Cell-Fie Hipband Cellphone Holder to suit everyone's needs.
About Nifty-Nifty.com  
Nifty-Nifty.com is the world's leading online retailer of innovative, nifty products. The company specializes in online retailing of products such as the Specs In A Sec Magnetic Eyeglass Holders, Phubby Wrist Cellphone Holder, Cell-Fie HipBand Cellphone Holder, Biker Purses, Cross Body Cell Phone Purses, and other innovative online products at the best prices with no charge shipping in the USA and Canada.
http://www.Nifty-Nifty.com 
Tel: 858-248-2302