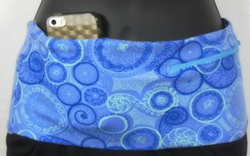 The iPhone 6 Plus is a sizable cellphone to tote and Cell-Fie HipBand Cellphone Holder is up for the challenge.
Ocean City, MD (PRWEB) November 26, 2014
Nifty-Nifty.com, creators of 'As Seen on TV' hands-free fashion accessories, has just announced that their Cell-Fie Hipband Cellphone Holder pairs perfectly with the iPhone 6 Plus.
"Cell-Fie, our top-selling hip/waistband cell phone holder, has become a favorite among iPhone 6 Plus users, as its pockets are large enough to fit these cellular devices, passports and other small belongings comfortably and conveniently", declares Nifty-Nifty.com co-founder, Wendy Miller. "The iPhone 6 Plus is a sizable cell phone to tote, and Cell-Fie is up for the challenge."
Learn more about Nifty-Nifty.com's Cell-Fie, here:
*http://www.nifty-nifty.com/cell-fie-best-hip-band-smartphone-cellphone-holder/
Cell-Fie Hipband Cellphone Holder offers the ultimate in style and security for those who like to carry their cell phones on the go, but who do not wish to be burdened with bulky bags or backpacks.
This amazing hipband cell phone holder is made of durable, machine washable fabric that conforms comfortably to one's body. The Cell-Fie will never ride up or slide down, but will stay perfectly in place, while protecting all one's necessary items, all day long, regardless of activity level.
Sports enthusiasts, teachers, students, shoppers, artists, all love the 3 pocket (2 with zippers) Cell-Fie Hipband Cellphone Holder, especially since it can accommodate even the largest cell phones, such as the iPhone 6 Plus.
And with so many colors from which to choose, including; Navy, Radiant Red, Black, Black and White, White, Latte, Silver Grey, and Purple Purple, there's a Cell-Fie to satisfy everyone's personal sense of style.
Drop by Nifty-Nifty.com today, and check out the one, the only, Cell-Fie Hipband Cellphone Holder!
About Nifty-Nifty.com   
Nifty-Nifty.com caters to a diverse clientele from all over the globe. As the world's leading online retailer of innovative, versatile products, Nifty-Nifty.com specializes in nifty products such as Biker Purses, Phubby Wrist Cellphone Holders, Specs-in-a-Sec magnetic eyeglass holders, Cell-Fie HipBand Cellphone Holders and Cross Body Cell Phone Purses, among others. All products are offered at highly competitive prices with zero charge shipping in the USA and Canada.
http://www.Nifty-Nifty.com
Tel. 858-248-2302