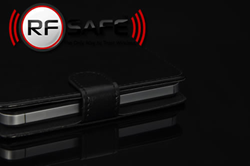 World Health Organization has classified RF Radiation as a class 2b, "carcinogenic hazard" same category as lead, engine exhaust and chloroform
(PRWEB) March 16, 2014
RF Safe claims some key advantages of this partnership are "the grasp this factory has on the core technologies responsible for the design and development of new products using mold manufacturing and injection molding." In a city with a population of over 12 million, making it the 3rd largest after Beijing and Shanghai - Big Bear Case stands out as world leaders in manufacturing high quality cell phone cases for small, medium and large businesses around the world.
John Coates, Founder of RF Safe, says "State-of-the-art facilities, quality workmanship and customer service with dedicated support for American based businesses makes this easy choice for our manufacturing needs."
RF Safe wants to focus on making it easier for cell phone users to be safe. "That means giving cell phone users the options they want in a style and colors they choose" says Coates.
RF Safe claims to have made this partnership to make it easier for consumers to find several different style and design flip cases which are easy to shield in under two minutes without tools using RF Safe's Peel n Shield ™ cell phone radiation shields.
Coates says "the combination of a shielded flip cover case and air-tube headset make the most practical cell phone radiation protection on the market today." He says this because with a shielded flip cover case you can still access all the phones ports while maintaining a deflective shield equal to or larger than the cell phone between the user and device.
Potentially cell phone radiation is harmful, that is why the World Health Organization has classified RF Radiation as a class 2b, "carcinogenic hazard" same category as lead, engine exhaust and chloroform.
Early on-set of neurological diseases or brain cancer are among the fears - Air-tube headsets provide the best protection the brain can get from cell phone radiation when speaker phone or sending text isn't an option.
RF Safe Mono Headsets are perfect for work or stereo air tube headsets for listening to music – Using an RF Safe Air-tube headset prevents radiation from reaching the brain and delivers acoustic sound only an air tube headset can deliver.
ABOUT RADIO FREQUENCY SAFE – http://www.RFSAFE.COM
RF SAFE is the world's premier provider of cell phone radiation protection accessories and informational data. Since 1998 RF (Radio Frequency) Safe has been dedicated to evolving the wireless industries safety standards, by engaging in the business of design, testing, manufacture, and sale of safety technologies to mitigate harmful effects of cell phone radiation.