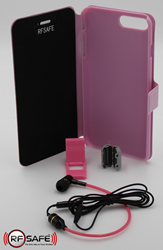 I love my iPhone 6 Plus, but I do not like the way it makes my hand and ears hurt...UNLESS....I have it in my case from rfsafe.com
New York City, New York (PRWEB) October 09, 2016
On 9/30/2016 the world renowned celebrity Chef for Healthy Living Magazine, Susan Teton Campbell, posted an unbiased non-paid review of RF Safe's cell phone radiation case for her iPhone on susanteton.com.
Campbell wrote:
"I love my iPhone 6 Plus, but I do not like the way it makes my hand and ears hurt...UNLESS....I have it in my case from RFSafe.com. Here is the great thing about this case. It not only protects you from harmful radiation, but it is so handy in how it works. It is like a little wallet. It is seriously spiffy! Let me tell you why and how much it cost.
The latch that closes the case has a little magnet on it, so it closes easily all the time. The speakers are on the bottom, so you can have the case closed and you can still use the speaker, or just hold the phone and case up to your ear - with it closed - and you can still carry on a conversation.
The camera is also available, but you have to open it to take a pic. The best part is that this casealso protects the phone. When it is closed, you can put it in your pocket or throw it in your purse or car, and not worry about it getting scratched. I have dropped mine a few times and the case protected the phone perfectly.
I have been using RFSafe products for years. They are the best, in my opinion. You can also get their fabulous ear buds. The set costs about $69.99 (ear buds and case) for an IPhone 6Plus."
In the review titled, "Best Cell Phone Protection From RF Safe" Campbell's last words were "Get one!!!!"
Read Ms. Campbell's full review on susanteton.com
http://susanteton.com/blog/best-cell-phone-protection-from-rf-safe
About Susan Teton Campbell
http://susanteton.com/media
Ms. Campbell is a chef well known for not only creating beautifully prepared, delicious food but also for teaching people how to eat well, healthy, and local. She is an advocate for locally grown food, small farmers, hunters and fishermen, and improving local health through the food on our tables. She takes subtle flavors and fine cooking to new heights and demonstrates Maui's potential to feed itself while showcasing Maui's gifts to the world.
About RF Safe
RF SAFE is a world-leading provider of cell phone radiation protection accessories and informational safety data. Since 1998 RF (Radio Frequency) Safe has been dedicated to evolving the wireless industries safety standards, by engaging in the business of design, testing, manufacture, and sale of safety technologies to mitigate harmful effects of cell phone radiation.