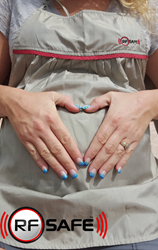 "Current FCC standards do not account for the unique vulnerability and use patterns specific to pregnant women and children," the AAP warned in a letter to the FCC.
Madeira Beach, FL (PRWEB) November 17, 2016
RF Safe is leading the wireless communications industry in exploring new nano-technologies to accommodate shielding 5G Smartphone radiation. "RF Safe's Graphene-based RFR/EMI shielding materials will be in use long before the roll-out of 5G Smartphones," says John Coates, Founder of RF Safe.
On 11/14/16 WTHR NEWS 13 Investigated what needs to be known about the science -- and the easy steps that can be taken right now to help reduce possible risk. Bob Segall, Senior Investigative Reporter for WTHR reported that The American Academy of Pediatrics and other health organizations have petitioned the government to revisit its limits and to set more stringent radiation standards for cellphones. http://www.wthr.com/article/13-investigates-cellphones-and-cancer-is-the-risk-real
"Current FCC standards do not account for the unique vulnerability and use patterns specific to pregnant women and children," the AAP warned in a letter to the FCC.
According to RF Safe, the world's premier provider of cell phone radiation safety accessories. Consumers shopping for a Smartphone this holiday season can greatly reducing cell phone radiation exposure easily by following these recommendations and tips:
1) Instead of holding a cellphone up to the ear during phone calls, use the speaker phone function
2) When privacy is needed use an Air-tube headset instead of a wired earbud or Bluetooth headset
3) Text or video call instead of talking (Do not, of course, text while you are driving!)
4) Keep your cellphone conversations as short as possible
5) Do not carry your cellphone in your pants pocket or bra - use a shielded phone case or RF shielded Apparel
6) Do not sleep with your cellphone or tablet on or under your pillow (Even if you're not talking on your phone, it's still transmitting radiation if it's on and connected to a network.)
RF Safe suggest using accessories for cell phone radiation protection in a system to achieve ALARA (As Low As Reasonably Achievable) approach to reducing excessive cell phone radiation exposure.
"Everyone knows that operating a motor vehicle safely requires more than just fastening a seat belt; it entails many safety precautions. What is not commonly known is that safe cell phone usage is just as easy, but also requires a system of precautions. Each of the cellphone radiation safety accessories suggested by Dr Sanjay Gupta on Anderson Cooper in this video play a very important role in safe cell phone usage. Understanding when and how to use them all is very important." say Coates.
In RF Safe's SCP (Safe Cell Phone) Accessory Packages only scientifically proven ways to reduce radiation exposure are used to protect Smartphone users from increased risk when using wireless products.
Consumer's can save with RF Safe's limited time offer holiday sale on Safe Cell Phone Packages. RF Safe's Four Piece Smartphone Radiation Safety Accessories Package is Only $69.99 Through Cyber Monday!
https://www.rfsafe.com/select-model-smartphone/
ABOUT RADIO FREQUENCY SAFE – CELL PHONE RADIATION SAFETY
RF SAFE is a world-leading provider of cell phone radiation protection accessories and informational safety data. Since 1998 RF (Radio Frequency) Safe has been dedicated to evolving the wireless industries safety standards, by engaging in the business of design, testing, manufacture, and sale of safety technologies to mitigate harmful effects of cell phone radiation.