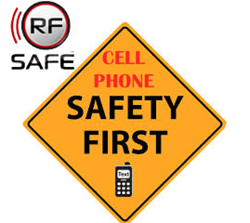 The Samsung Note 7 isn't the only device that can burn you.
Palo Alto, CA (PRWEB) October 15, 2016
Microwave radiation safety advocate, Rf Safe, has updated its wireless safety guide, after Samsung decided to permanently stop producing the new fire hazard Galaxy Note 7 smartphone this week, in a projected 5.3 billion loss.
The global recall that was issued Tuesday, after incidents where the phones began smoking or caught fire, raises more concerns for wireless users on correct handling, storage and usage.
A massive number of reports of fires in replacement devices prompted a new round of warnings from regulators, phone carriers and airlines. 96 units exploded in the US alone.
As of Friday, October 10, 2016, the The U.S. Department of Transportation and other agencies issued an emergency ban to Galaxy Note 7 users. Owners will now be barred from carrying the recalled Note 7, or stowing them in checked baggage during flights. Many Note 7 owners have yet to return their potentially explosive devices.
Rf Safe CEO John Coates warns users that "The Samsung Note 7 isn't the only device that can burn you. Mitigating health risk from RF exposure that we are exposed to all day long should be a concern of everyone's."
A study released on May 24 by U.S. National Toxicology Program is the most credible link to cell phone radiation and brain cancer in animal studies.
Rf Safe wants to give consumers some new tips on microwave radiation safety:
-Choose a device with the lowest possible Specific Absorption Rate(SAR). The FCC has adopted limits for safe exposure to RF energy. The new iPhone 7 emits double the radiation as the now-recalled Samsung Galaxy Note 7. An SAR warning can be found in the user's manual of your device, and on the cell phone manufacturer's website.
-Limit the length of phone calls. Prolonged extended use of cell phones increases your exposure to the radiated signals from your device; even a two minute call has been shown to alter your brain's natural electrical activity for up to an hour afterward. By reducing the amount of time spent on the cell phone and by relegating it to emergency use, you can reduce your exposure to it. Children should utilize protective shielding as their skulls are thinner and their brains are less developed, and therefore more susceptible to the radiation emitted from the cell phone
-Turn the cell phone off when not in use. A cell phone that is in standby mode is still emitting radiation. When it is off, this ceases. Do not carry the cell phone next to your body. This is especially important for children, men wearing it in a pocket next to the groin, and women who are pregnant. Keep it away from all vital organs (heart, liver, etc.). Rf Safe's new Radiation Safety Kit provides 3 types of innovative shielding if you must keep your device in use.
-Never keep a cell phone under your pillow when sleeping. In addition to being a fire hazard, the radiation emitting from the device can be hazardous to the brain while sleeping. Joel Moskowitz, PhD, director of the Center for Family and Community Health at UC Berkeley's School of Public Health has suggested that it is best not to let kids sleep with their phones under their pillows and advises against carrying cell phones in front pockets, due to possible radiation exposure to the reproductive system.
RF SAFE is the world's premier provider of cell phone radiation protection accessories and informational data. Since 1998 RF (Radio Frequency) Safe has been dedicated to evolving the wireless industries safety standards, by engaging in the business of design, testing, manufacture, and sale of safety technologies to mitigate harmful effects of cell phone radiation.