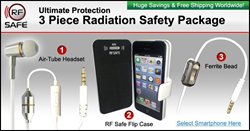 Our new safety kit protects the vital organs from exposure in three critical ways.
Palo Alto, CA (PRWEB) October 18, 2016
RF Safe, the world's premier provider of cell phone radiation safety accessories, is proud to announce the launch its most effective microwave radiation safety kit to date. Each of the cellphone radiation safety accessories included play an essential role in safe cell phone usage.
RF Safe wants to emphasize the importance of proper usage of the new safety kit to its users.
The all-new Safe Cell Phone Accessory Package is the only safety kit available that is scientifically proven to reduce radiation exposure and decrease risk when using wireless products. It features the newest innovations in cell phone radiation safety technology, developed at the RF's brand new Wireless Safety Facility in Florida.
The kit provides threefold protection including the RF Safe AirTube Headset, RF Safe Clamp-on Ferrite Bead, and the custom RF Safe Shielded Cell Phone Flip Case.
John Coates, founder and CEO of RF safe reminds consumers, "Everyone knows that operating a motor vehicle safely requires more than just fastening a seat belt; it entails many safety precautions. What is not commonly known is that safe cell phone usage is just as easy, but also requires a system of precautions. Our new safety kit protects the vital organs from exposure in three critical ways."
1. RF Safe AirTube Headset
A hollow tube, similar to a doctors stethoscope allows air to transmit sound to your ears which keeps distance between your brain and any electronic components that can potentially radiate microwave radiation. The acoustic technology uses a patented air tube and sound chamber design to deliver crystal clear sound without radiation or electronics in your ears.
2. RF Safe Clamp-on Ferrite Bead
A headset's wire can pick up microwave radiation that is transmitted from a cell phone and channels that radiation directly into a user's head. The ferrite bead is a special material composition, essentially a small clip you put on the wire of a headset. It is designed to impede high frequency microwaves in the GHz range while allowing low frequency electromagnetic energy to pass through to operate the speaker to create sound in the Hz range.
3. RF Safe Shielded Cell Phone Flip Case
RF Safe methodologies for shielding radiation in a cell phone case use technologies to deflect radiation which is directed towards the users body (ie radiation only the user would have absorbed) and will not cause the phone to increase out-put power. RF Safe's patented, revolutionary Peel-n-Shield™ technology is the ideal solution for shielding radiation by accommodating the latest smartphone flip cover designs. Perfect protection when carried in a pocket, purse or even when used to the ear when an air tube headset isn't an option. The flip screen cover is lined with soft foam to protect the phone screen and deflects radiation as a shield between the user and wireless device.
New iPhone 7 Series Safety Accessory Packages are available now.
RF SAFE is a world-leading provider of cell phone radiation protection accessories and informational safety data. Since 1998, RF (Radio Frequency) Safe has been dedicated to evolving the wireless industries safety standards by engaging in the business of design, testing, manufacture, and sale of safety technologies to mitigate harmful effects of cell phone radiation. Learn more ways to avoid excessive RF exposure by visiting RF Safe online at rfsafe.com