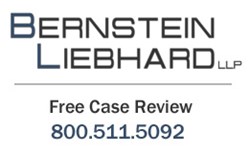 The findings of this study are compelling, and only add to the growing body of evidence that indicates a real risk of brain tumors from cell phones.
New York, NY (PRWEB) September 27, 2013
As cell phone radiation lawsuits (http://www.consumerinjurylawyers.com/cell-phone-radiation-lawsuit.html) move forward throughout the country, Bernstein Liebhard LLP notes that a new study published in the International Journal of Oncology appears to confirm a link between cell phones and brain tumors that has been seen in previous research. The case-controlled study looked at brain tumor cases of both genders aged 18-75 years and diagnosed during 2007-2009. Exposures to mobile phones and cordless phones were assessed by a self-administered questionnaire. According to the authors of the study, their findings provide support for the hypothesis that radio frequency-modulated electromagnetic fields (RF-EMFs) play a role both in both the initiation and promotion stages of brain tumor development.*
"The findings of this study are compelling, and only add to the growing body of evidence that indicates a real risk of brain tumors from cell phones," says Bernstein Liebhard LLP, a nationwide law firm representing the victims of defective drugs, medical devices, and consumer products. The Firm is part of a small consortium of law firms actively representing plaintiffs in cell phone radiation lawsuits.(Case No. 0008533-12, Superior Court, District of Columbia)
Brain Tumors and Cell Phones
The possible link between the development of brain tumors and cell phones has caused considerable concern in recent years. In May 2011, for example, the World Health Organization's International Agency on Research for Cancer (IARC) announced it was reclassifying cell phone radiation as possibly carcinogenic, after the Interphone study found 30 minutes of cell phone use per day was associated with a 40% increased risk for a type of brain tumor called glioma.**
Earlier this month, the Environmental Working Group and 11 other public interest organizations wrote to the U.S. Food & Drug Administration (FDA) and the Federal Communications Commission (FCC) urging the regulators to revamp cell phone radiation standards. According to a statement issued by the Environmental Working Group, the FCC last revised those standards in 1996.***
In 2012, the U.S. Government Accountability Office ("GAO") characterized the FCC's current standards as outdated, and criticized the Commission for failing to reflect the most recent research on cell phone radiation.**** The FCC has since initiated such a review.
Individuals who may have developed brain tumors from cell phones could be eligible for compensation for medical bills, lost wages, pain and suffering and more. Learn More about the possible association between cell phone use and brain tumors at Bernstein Liebhard LLP's website. For more information, please call 800-511-5092 to speak with an attorney today.
*spandidos-publications.com/10.3892/ijo.2013.2111, International Journal of Oncology, September 24, 2013)
**ewg.org/release/health-consumer-groups-call-new-cell-phone-radiation-standards, Environmental Working Group, September 3, 2013
***iarc.fr/en/media-centre/pr/2011/pdfs/pr208_E.pdf, May 2011
****gao.gov/products/GAO-12-771, GAO, July 24, 2013
About Bernstein Liebhard LLP
Bernstein Liebhard LLP is a New York-based law firm exclusively representing injured persons in complex individual and class action lawsuits nationwide since 1993, including those who have been harmed by dangerous drugs, defective medical devices and consumer products. The firm has been named by The National Law Journal to the "Plaintiffs' Hot List," recognizing the top plaintiffs' firms in the country, for the past 10 consecutive years.
Bernstein Liebhard LLP
10 East 40th Street
New York, New York 10016
800-511-5092
ATTORNEY ADVERTISING. © 2013 Bernstein Liebhard LLP. The law firm responsible for this advertisement is Bernstein Liebhard LLP, 10 East 40th Street, New York, New York 10016, 800-511-5092. Prior results do not guarantee or predict a similar outcome with respect to any future matter.
###
Contact Information:
Felecia L. Stern, Esq.
Bernstein Liebhard LLP
info(at)consumerinjurylawyers(dot)com
http://www.consumerinjurylawyers.com