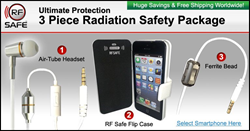 With cell phone radiation, it's critical to have user knowledge of the wireless device to maintain proper distances and correctly use RF shielding
Palo Alto, CA (PRWEB) November 17, 2016
Every year RF Safe's Holiday shoppers through Thanksgiving, Black Friday and Cyber Monday can rely on the arrival of non-stop deals and discounts starting sometime in early November each year. It's also guaranteed that free shipping will be easy to come by for virtually anything you purchase online.
According to CEO, John Coates, RF Safe ships to more countries than many online stores with an average of 40 percent of orders originating from outside the USA. Therefore, it is a great way to start the holiday by offering no-cost shipping worldwide on RF Safe's Cell Phone Radiation Safety Packages through the holiday shopping season.
RF Safe's four piece Smartphone safety packages feature an RF Safe Air-Tube Headset, and RF Safe Smartphone radiation case, RF Safe Ferrite Bead, along with a simple kick-stand.
.
"Radiation safety is often like safely operating a motor vehicle. You use a blinker, seat belt, and headlights to maintain a safe driving experience," says RF Safe founder, John Coates, "With cell phone radiation, it's critical to have user knowledge of the wireless device to maintain proper distances and correctly use RF shielding."
In RF Safe's SCP (Safe Cell Phone) Accessory Packages only scientifically proven ways to reduce radiation exposure are used to protect you and your love-ones from increased risk when using wireless products.
Limited Time Offer on Safe Cell Phone Packages
All 4 Smartphone Radiation Safety Accessories Only $69.99
To take advantage of RF Safe's global no-cost shipping on cell phone radiation safety packages through the remaining 2016 holiday shopping season, simply select your model smartphone from this link https://www.rfsafe.com/select-model-smartphone/
RF SAFE is a world-leading provider of cell phone radiation protection accessories and informational safety data. Since 1998 RF (Radio Frequency) Safe has been dedicated to evolving the wireless industries safety standards, by engaging in the business of design, testing, manufacture, and sale of safety technologies to mitigate harmful effects of cell phone radiation.
RF Safe has a focus that supports forward progress of the wireless industry and governmental agencies in standardization's for safer cell phones with a goal of accelerating the pace that cell phone users are properly informed and able to attain safer wireless technologies "at point of sale".