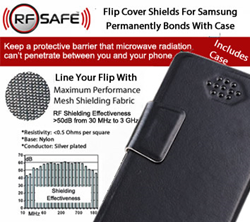 RF Safe's innovative new cell phone radiation case with shielded flip cover provides user-friendly access to all the phones ports and features while providing maximum radiation safety.
Palo Alto, CA (PRWEB) April 05, 2014
According to RF Safe, the research published in the US National Library of Medicine National Institutes of Health on Apr 26, 2013. http://www.ncbi.nlm.nih.gov/pmc/articles/PMC3921848/ indicate strongly that men are damaging their sperm carrying a cell phone around in the pants all day.
RF Safe's innovative new cell phone radiation case with shielded flip cover provides user-friendly access to all the phones ports and features. The entire front flip cover is shielded with Peel n Shield™ for maximum cell phone radiation safety when carried in a pocket.
Preliminary findings for the research made these observations.

Men talking on the phone for more than an hour a day had 17% fewer highly motile sperm than men who talked less than 15 minutes a day.
Men carrying a phone in a hip pocket or on a belt had 11% fewer mobile sperm than men who kept their phone elsewhere on their body.
Men carrying a cell phone on a belt and using it intensively during a five-day test period had a 19% drop in highly motile sperm from previous levels.
Solution - RF Safe Flip Case Radiation Shields -RF Protection For Your Body
Even with the problem of having a wire transmitting electromagnetic waves into the head being solved with RF Safe's air-tube headset – more still more concerns exist.
When a phone is attached to a belt and in use, radiation penetrates the body by the phone at an accelerated rate and is absorbed faster than the head because tissues and organs, such as the liver and kidneys, provide better conductivity than the skull and have no bone protection.
Phones will often operate at higher power levels and emit more radiation when they are held lower than the head because the signal becomes more obstructed as the body absorbs more radiation.
Solving this problem is simply a snap! RF Safe offers a cell phone flip case that's a quick snap to install to shield cell phone radiation where you need it. Incorporating the highest grade silver plated shielding fabric over the inside of the flip screen cover, when this cell phone flip case is closed the flip is now a barrier that blocks cell phone radiation through the process of microwave deflection.
"Currently all model flip cases are shielded by hand at RF Safe, with mass production being tooled up for now" Coates says.
RF Safe's Founder goes on to say, "there isn't a product anywhere that offers this sort of versatile protection anywhere on the market. Other cases on the market claim radiation protection by adding an additional antenna in the back of a case to pull some of the radiation away from the user. RF Safe's shielded flip case is the best solution as it puts proven microwave shielding fabric, the size of the entire cell phone, between the user and cell phone itself that deflects radiation."
The shielded flip case by RF Safe has small shielded holes in the flip screen cover to conveniently hear clearly with the flip closed so the RF shielding is between the users head and cell phone when a phone is used normally against the head. RF Safe flip case is also perfect for those using air tube headsets on the go as well, when the shielded flip case closed, simply slip the phone into a shirt or pants pocket with the front (shielded part of the phone) facing the body.
RF Safe is making custom shielded flip cases for most popular Apple and Samsung smart phones, with a universal flip case coming soon to include shielding Smartphones that are hard to find flip cases to apply RF shielding.
RF Safe Flip Cell Phone Case For New Apple iPhone Models
RF Safe Cell Phone Flip Case For Samsung Galaxy S Smartphone Models
To stay up-to-date in the concerns facing radiation from cell phones and the best protection from the only company in the world with over 15 yrs. of phone RF shielding experience, visit http://www.rfsafe.com.