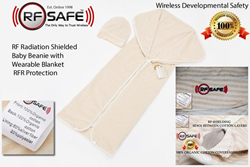 Parents need to be wary of the length of usage for children when playing games, or chatting on the phone with Grandma.
Palo Alto, CA (PRWEB) October 17, 2016
World leader in microwave radiation safety, Rf Safe, has developed a new line of innovative radiation shielding accessories for toddler age children.
Rf Safe says that parents should be aware that the American Academy of Pediatrics(AAP) recently issued new recommendations on the way children should use cell phones and wireless devices.
With technology being adopted by children at younger ages than ever before, Rf Safe says it's critical to take wireless safety precautions for toddlers.
In May 2016, the US National Toxicology Program, which is part of the National Institutes of Health (NIH), released partial findings from a two-year study that exposed rats to the types of radio frequency radiation that cell phones give off and compared them with a non-exposed group. Some rats developed cancerous tumors after being exposed to the radiation—showing a potential connection between exposure to radiation and an increased risk of cancer.
The rate of microwave radiation absorption is higher in children than adults because their brain tissues are more absorbent, their skulls are thinner, and their relative size is smaller. The AAP says parents should limit wireless exposure, and reminds parents that cell phones are not toys, and are not recommended for infants and toddlers to play with. "Children have a thinner skull, so the radiation penetrates much deeper," says Devra Davis, Ph.D., founder and president of the nonprofit Environmental Health Trust.
The new Rf Safe line of radiation protective for tots features the Radiation Shielded Baby Beanie, and the Wearable RF Protetion Baby Blanket. The RF Shielding materials are sewn between layers of soft 100% organic cotton to provide ultimate wireless radiation protection.
Rf Safe founder, John Coates also recommends the Rf Safe anti-radiation AirTube Headset for children when playing games on devices. "Microwave-emitting devices shouldn't be used as a babysitter," says Coates, "Parents need to be wary of the length of usage for children when playing games, or chatting on the phone with Grandma."
RF SAFE is a world-leading provider of cell phone radiation protection accessories and informational safety data. Since 1998, RF (Radio Frequency) Safe has been dedicated to evolving the wireless industries safety standards by engaging in the business of design, testing, manufacture, and sale of safety technologies to mitigate harmful effects of cell phone radiation. Learn more ways to avoid excessive RF exposure by visiting RF Safe online at rfsafe.com.