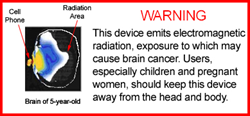 Western media is too swayed by wireless ad revenues and disinformation provided by the wireless industry regarding the hazards of cell phone radiation.
Tampa, FL (PRWEB) February 26, 2014
A story published in the Saudi Gazette on Feb 26th 20014 (http://www.saudigazette.com.sa/index.cfm?method=home.regcon&contentid=20140226196869) is a truly informative and well rounded article, giving readers the facts and respectfully the information they need to be safe from cell phone radiation.
"Everyone needs to read this short newspaper article on cell phone radiation safety and western media should take notes," says RF Safe's Founder John Coates.
According to John Coates, "Western media is too swayed by wireless ad revenues and disinformation provided by the wireless industry regarding the hazards of cell phone radiation to provide such an honest and informative article in under 700 words. It's recommended that everyone read it."
The article goes much further than just alerting its readers on the potential hazards and the latest studies. This article goes where main stream western reporters seem to dare to venture, informing the public on the latest technologies and accessories to use a cell phone without being exposed to excessive amounts of microwave radiation.
RF Safe's Founder, John Coates said "The cell phone safety tips you find in western media are always the same "don't sleep with the phone under a pillow, text instead of talking, only talk when you have a strong signal ect ect - rarely ever mentioning the proven ways that Smartphone accessories like RF Safe's Air-tube headsets and Flip case radiation shields can drastically reduce radiation exposure from cell phones."
Hawaii Democratic Senator. Josh Green of Kona, Ka'u introduced Senate Bill SB 2571 this month, a measure calling for cell phones sold in Hawaii to come with a prominent health warning -- similar to what smokers see on the sides of cigarette packages to warn them of danger. Coates is concerned that there is not a word in western media on how cell phone users can reduce exposure with easy to use accessories.
He is grateful for the honest reporting that shows strong integrity and morals at the Saudi paper to report on this often shunned but rapidly growing industry of cell phone radiation safety, which incidentally the much more powerful wireless industry wished didn't exist at all.
RF Safe is creating better and better ways to make it as easy as possible to avoid excessive exposure to phone radiation. Just this week RF Safe launched their new Peel n Shield ™ Technology that makes it possible to shield almost anywhere a cell phone is help near the body. RF Safe Peel n Shield™ is made from 2 mm thick soft foam and silver plated fabric that is applied permanently with just pressure to fabrics, metal, even wood or glass. It's the perfect material sold in pliable sheets for custom shielding cell phone cases, pockets, holsters, purses, handbags or anywhere else there is a concern over RF Radiation exposure.
RF Safe offers several proven and easy to use solutions to use a cell phone safely. These aren't just safety accessories, for instance, RF safe air-tube headsets are becoming more popular because they enhance the experience of using a Smartphone to play music without electronics in a users ears for live acoustic sound only RF Safe's radiation free headset technology can deliver.
To say up to date on the hazards of cell phone radiation and best accessories to reduce exposure visit http://www.rfsafe.com.