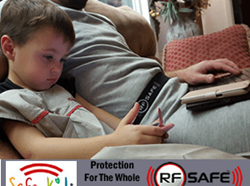 Users need to research the hazards of cellphone radiation, and the simple accessories that can reduce health risk from excessive wifi radiation exposure
Palo Alto, CA (PRWEB) October 18, 2016
Wi-Fi technology is a form of electromagnetic radiation that sends and receives information using radio waves, permeating everything around it.
RF Safe, world leader in wireless radiation education and safety, has developed a new line of revolutionary shielding to protect against this unseen force now found in almost every modern business and home.
The International Agency for Research on Cancer (IRIC), part of the United Nations' World Health Organization (WHO) classifies radiofrequency electromagnetic fields (RF/EMF) as Class 2B Carcinogens. The main sources of RF/EMF are radios, televisions, microwave ovens, cell phones, and Wi-Fi devices.
Earlier this year, a rodent study found heavy exposures to cell phone radiation increased rats' risks for some brain and heart tumors. More rodent research has tied high levels of Wi-Fi and cell exposure to hormonal shifts and oxidative stress—the kind of shifts that could promote cancer or brain diseases.
CEO and founder of RF Safe John Coates urges consumers to be aware of the following:
-Children absorb a greater amount of microwave radiation than adults.
-Fetuses are even more vulnerable than children,so pregnant women should avoid exposing their fetus to microwave radiation.
-Adolescent girls and women should not place cellphones in their bras.
-Cellphone manual warnings make clear an overexposure problem exists.
-Government warnings have been issued but most of the public are unaware of such warnings.
-Current exposure limits are inadequate and should be revised.
-Wireless devices are radio transmitters, not toys.
RF Safe, Manufacturer of Peel n Shield™, proudly introduces new Wi-Fi Radiation Safety Accessories.
These accessories now feature most current technology to protect the entire home from excessive microwave radiation exposure.
The new shielding accessories include:
-EMF/RF safe apparel for men, women, toddlers, and infants
-Anti-radiation maternity wear for expectant mother to protect mom and baby
-Custom radiation shielding for baby's crib and nursery
-EMF/RF shielded aprons for protection in the kitchen
"Users need to research the hazards of cellphone radiation, and the simple accessories that can reduce health risk from excessive Wi-Fi radiation exposure," says Coates.