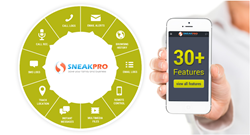 It never gets detected from any tracking software and monitors the cell phone with absolute correctness.
Nova Scotia, Canada (PRWEB) June 23, 2014
Sneakpro has launched their new spy software and app to help parents and employers remotely monitor calls, messages, email, internet browsing and GPS data on a child's or employee's smart-phone or tablet.
Sneakpro is designed as a cell phone monitoring app that resides invisibly in a smartphone or tablet, and records every activity that takes place on the mobile device. Activities that are recorded include phone calls, call history, incoming/outgoing SMS, location history, Facebook/iMessage/WhatsApp messages, Skype conversations, as well as multimedia files such as photos, videos and audio files. Parents or employers can then access the Sneakpro web interface remotely, and review the activity and whereabouts of the person they are monitoring.
"For so many years, parents and employers alike have invested in monitoring software on PCs, but have neglected to extend that surveillance to mobile devices," said Mr Neil, online marketing director at Sneakpro. "Almost all of our correspondences today pass through our mobile devices via email, calendars, calls and text messages, so much that we are rendered helpless when we lose our phones or tablets. There is no better way of truly monitoring someone than to track their mobile devices."
With SneakPro, parents can find out if their children have been accessing unsavory websites, or if they have been mixing with bad company. The app can also trigger alerts if GPS ascertains that the child has entered a pre-determined restricted area, or if they have received a call or text message from a blacklisted phone number.
"For parents, we wanted to make Sneakpro both a surveillance and a defense app. It is not uncommon for kids today to keep to themselves and stay glued to the mobile devices. The chance of them meeting unsavory people online is enormous, and we cannot always be there for them. That's where Sneakpro comes in," Neil explains.
For the business owner, Sneakpro helps ensure that employees do not access irrelevant websites that might compromise the security of corporate assets. The software also helps business leaders gain first-hand intelligence on possible data leaks, corruptor espionage attempts.
Neil clarifies: "Nowadays, most workers use one device to access both personal and work emails, cloud software, and social media platforms. The risk of viruses and malware making its way into the corporate network is significant, and the risk of losing the confidentiality of secret documents is even greater."
SneakPro is compatible with all versions of Android, Blackberry and iPhone smart phones and tablets. More details can be found on the Facebook page, and on the official SneakPro website.