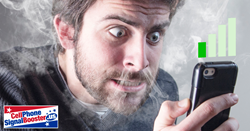 Cell phone signal boosters can now stop those drastic events!
Houston, Texas (PRWEB) May 12, 2015
Seeing a "no service" advisory on cell phones, especially inside vehicles, can send many into panic mode. CellPhoneSignalBooster.us, a cell phone signal booster company, hopes to solve reception problems with new signal boosters, eliminating the dreaded signal loss warning.
A lack of reception continues to plague many cell phone users. According to the zBoost Smartphone Survey, nearly one-in-five consumers who have a landline keep it due to poor indoor cell phone reception. As their name indicates, boosters increase a cell phone's signal, which means significantly fewer dropped calls and less static, interference, or disturbance during calls – whether in homes and buildings or inside vehicles.
"We're happy to provide a solution to an all-too-common problem," stated Jazmin Mendoza, the CellPhoneSignalBooster.us company spokesperson. "A cell phone without service is useless. Our products amplify signals to ensure that cell phones can be used when they are needed."
CellPhoneSignalBooster.us offers signal boosters compatible with most brands, including Apple iPhone, Samsung, HTC, and LG. Most work for all Carriers in USA such as AT&T, Verizon, Sprint, and T-Mobile, as well as for all Carriers in Canada such as Bell, Telus, Rogers, and Wind Mobile.
Signal boosters work best in coverage-fringe areas where network reception is weakest. They also work well within coverage areas where reception does not reach due to wireless transmission blockages such as metal frames of vehicles and concrete walls of buildings, houses, and basements.
"When shopping for a cell phone signal booster for home, products are generally priced in proportion to the square footage of coverage they are able to provide," said Mendoza. "Here is a helpful tip: It is usually better to err on the side of caution and get a cell phone signal booster that is at least a level above your perceived needs, in terms of coverage area. The price difference is negligible when compared to the increased voice clarity, and realization of faster wireless data transfer speeds of the new advanced LTE networks in US and Canada."
The company offers boosters made in USA and guaranteed to work as promised at the most competitive price after shipping cost is factored in. They offer a money back guarantee if their products do not exceed the buyer's expectations.
For more information, visit http://cellphonesignalbooster.us/
About CellPhoneSignalBooster.us:
Based in Houston, TX, CellPhoneSignalBooster.us is owned by Accessory Fulfillment Center LLC, also known as AFC-Houston / AFC-LLC. It is a retailer, wholesaler, and distributor of cell phone accessories and also an authorized reseller of weBoost offering an industry-leading two years limited manufacturer's warranty. Reception boosting products they supply are tested to work efficiently, and approved by FCC as well as Industry Canada for sale to consumers in United States and Canada, respectively.