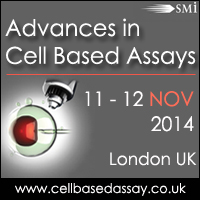 'A well organised conference with some interesting good talks.' - MRC Technology
London, UK (PRWEB UK) 17 June 2014
Sigma Aldrich Senior Sales Specialist for Emerging Technologies, Johnathan Rock, will be providing attendees at this year's event on Advances in Cell Based Assays, with unique insights into the next generation of target identification and screening technologies.
Highlights from the address include updates on genome editing tools, custom engineered cell lines and disease models, protein-protein interaction detection and RNAi and miRNA technologies.
The 7th annual conference, which takes place on 11th and 12th November in Central London, will feature an array of industry KOLSs and scientific leaders shaping the industry. Those confirmed to speak this autumn include MedImmune, Guys Hospital, LEO Pharma, Merck Serono and Sigma.
The conference will spotlight on areas such as:

Regulation and drug development
Phenotypic screening use in cell based assays
Label free
Stem cells
Application of 3D culture
Next generation cell based assays
Attendees will also be invited to participate in a panel discussion led by ABS Inc. USA on how easy it is to use adult stem cells in therapeutic applications, in vitro and in vivo paradigm.
For those who are interested, there is currently a £300 discount available online.
Advances in Cell Bases Assays
11th-12th November 2014
Marriott Regents Park Hotel, London UK
http://www.cellbasedassays.co.uk
---end---
About SMi
Established since 1993, the SMi Group is a global event-production company that specializes in Business-to-Business Conferences, Workshops, Masterclasses and online Communities. We create and deliver events in the Defence, Security, Energy, Utilities, Finance and Pharmaceutical industries. We pride ourselves on having access to the worlds most forward thinking opinion leaders and visionaries, allowing us to bring our communities together to Learn, Engage, Share and Network. More information can be found at http://www.smi-online.co.uk.
About Sigma Aldrich
Sigma-Aldrich is a leading Life Science and High Technology company. Our biochemical and organic chemical products and kits are used in scientific and genomic research, biotechnology, pharmaceutical development, the diagnosis of disease and as key components in pharmaceutical and other high technology manufacturing. http://www.sigma-aldrich.com