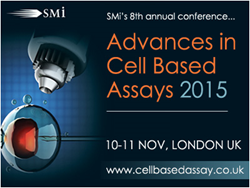 "I am looking forward to the presentations that discuss the implementation of high content imaging in combination with the use of 3D models" - Netherlands Cancer Institute
London, England (PRWEB UK) 28 September 2015
Some of the most internationally prominent senior scientists, drug discovery researchers and industry leaders will gather this November in London to discuss cutting edge advancements in cell based assays when SMi's 8th annual show returns to London this autumn.
This year's event will provide a comprehensive overview of current issues and ongoing considerations in 3D functional assays and phenotypic screening to both new and seasoned stakeholders. The packed agenda features; over 15 thought provoking presentations from leading pharmaceutical organisations such as Novartis, Pfizer, AstraZeneca, Johnson & Johnson and GSK; spotlight sessions on the latest developments in High-Throughput Screening (HTS); progressive insight into 3D cell cultures; best practice in optimising in-vitro and in-vivo assays; strategic direction on formulations in assay development; and an outlook into key considerations for future innovations.
In addition to the conference, Advances in Cell Based Assays 2015 will include two post-conference workshops taking place on 12th November.
The first workshop hosted by the Head of Stem Cells at Kings College London includes an interactive session from Nikon UK and will focus scientific developments in high throughput screening (HTS), high-content screening (HCS) methods and high-content analytical (HCA) tools.
The second workshop entitled: Applying Tissue Engineering to develop 3D Cell Based Assays, hosted by the University of Nottingham, will explore the application of tissue engineering to the generation of 3D in vitro models for disease modelling, toxicology testing and drug screening.
A detailed programme is available to download at http://www.cellbasedassay.co.uk
A snapshot of confirmed attendees include:
Actelion, AstraZeneca, Babraham Institute, Buchmann Institute for Molecular Life Sciences, Fraunhofer-IME SP, German Cancer Research Center (DKFZ), GlaxoSmithKline, Imperial College, Janssen Pharmaceutica NV, Kings College London, MRC Technology, Nottingham University, Novartis Pharmaceuticals, Oxford University, Pfizer Group, Sanofi Winthrop Gmbh, Sigma Aldrich, The Netherlands Cancer Institute, UCB Pharma Limited, University Of Dundee, University Of Edinburgh, plus more…
For those who are interested in attending, there is currently a £100 earlybird saving available online which expires on 30th September.
Advances in Cell Based Assays
10-11 November 2015
Holiday Inn Kensington Forum, London UK
http://www.cellbasedassay.co.uk
-- END ---
About SMi Group:
Established since 1993, the SMi Group is a global event-production company that specializes in Business-to-Business Conferences, Workshops, Masterclasses and online Communities. We create and deliver events in the Defence, Security, Energy, Utilities, Finance and Pharmaceutical industries. We pride ourselves on having access to the world's most forward thinking opinion leaders and visionaries, allowing us to bring our communities together to Learn, Engage, Share and Network. More information can be found at http://www.smi-online.co.uk