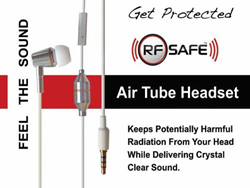 Cellphone users worried about health hazards from RF Radiation have the option to shield almost anywhere they store the phone near their body
New York, NY (PRWEB) March 11, 2014
RF Safe is consistently providing cutting-edge technology and education to avoid potentially dangerous microwave radiation, more specifically known as cell phone radiation.
RF Safe's Peel n Shield™ is a brand new consumer product that makes shielding cellphone radiation almost anywhere possible with just a pair of household scissors. Simply cut to the desired size and apply with pressure.
"Cellphone users worried about health hazards from RF Radiation have the option to shield almost anywhere they store the phone near their body. Backpacks, purse, hostler, even cell phone flip cover cases can be shielded with ease," says John Coates - RF Safe's Founder.
Peel n Shield™ Radiation Shield is a commercially available product for D-I-Y shielding microwave radiation from cell phones and other wireless products. Sold online and through authorized dealers worldwide. For information about Peel n Shield™ products or reseller opportunities, please visit http://www.rfsafe.com.
RF Safe Air Tube Headsets have proven to be the most durable, best sounding air tube headset on the market today. Available in several colors in both mono (Single Earbud) and Stereo (Dual Earbuds), which means there is an RF Safe headset perfect for any occasion.
The mono is perfect for long hours on the phone at work, especially when you still need to pay attention to the world around you. The Stereo model is for those that want that live rich acoustic sound only an air tube headset can deliver.
Coates says, "The stereo model is the perfect headset for teenagers that spend countless hours listening to music on their smartphones - fashionable colors great of any age,any style, radiation free sound to your ears, at the gym, on a jog, or relaxing on the beach. RF Safe's stereo air tube headset is designed to fit snug in the ears so it compliments an active healthy lifestyle."
RF Safe claims that using an air-tube headset to protect the brain and Peel n Shield™ to keep a barrier between the body and a wireless device allows cell phone users to implement a system for maximum prudent avoidance of potentially hazardous radiation.
To become an RF Safe dealer, investigate OEM applications, or include Peel n Shield™ Radiation Shield in Corporate Wellness Programs, please visit RF safe online or call toll free.
About RF Safe
RF Safe is a leading innovator, developer and manufacturer of radiation shielding products. Since 1998, the company has developed, manufactured and distributed a wide range of technology based RF safety solutions, including Peel n Shield™ Phone Radiation Shields, RF Safe Air-tube Headsets, and Ferrite RF suppressors to name a few.