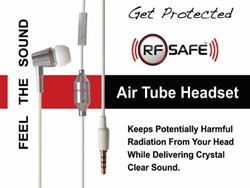 RF Safe has always warned consumers against using chips, diodes, neutralizers, pendants, amulets along with products that absorb handset radiation rather than deflect it.
New York, NY (PRWEB) March 23, 2014
RF Safe, the world's leading provider of proven cell phone radiation safety solutions has issued a consumer alert on cell phone radiation protection scams.
Just last week on March 15th 2014 Discovery News published a story "Do Cell Phone 'Radiation Shields' Work?" http://news.discovery.com/human/psychology/do-cell-phone-radiation-shields-work-140315.htm
"Earlier this week in the Science section of The New York Times, a full-page ad appeared for something called the Aires Shield, which promises to "neutralize harmful radiation" from your cell phone. According to the Aires promotional material, this radiation can cause depression, stress, headaches, insomnia, depression and even brain cancer."
BUYERS MUST BEWARE!
According to RF Safe, with so many cell phone radiation shielding products advertised around the world, it can be very confusing trying to understand how shields really work and identify the products that could potentially increase radiation exposure.
RF Safe has warned consumers for over 16 years against using chips, diodes, neutralizers, pendants, amulets along with products that absorb handset radiation rather than deflect it. RF Safe stands firm in belief that if you cannot see a noticeable difference with a hand-held RF meter, the product does nothing to reduce RF exposure.
The same products that the FTC went after over 10 years ago are still on the market today. Back on February 20, 2002 - the FTC took action, File Number: 012-3098 Civil Action Number: 02-CV-80131 Federal Court: Southern District of Florida http://www.ftc.gov/sites/default/files/documents/cases/2002/02/sv1cmp.pdf.
The FTC said, "The product is about the size of a penny and made claims it was able to block radiation from entering the soft tissue of the ear canal."
John Coates, founder of RF Safe said, "It's a jungle out there. The dividing line between truth, fiction, what will protect you and what will not has never been less clearly defined."
RF Safe makes it easy for cell phone users to find products that use only well known and well understood scientific methodologies to reduce or eliminate excessive microwave exposure from wireless devices.
The RF Safe Air-tube headset is one of the best ways for eliminating cranial exposure to cell phone radiation.
RF Safe points out that just because the brain is protected with an air-tube headset don't guarantee safety; users also have to be concerned where the iPhone is carried while using a hand free accessory.
When a cell phone is attached to a belt or in a pocket/purse radiation can penetrate the area near the cell phone handset. This radiant energy is absorbed much faster than at your head because tissues and organs such as liver, kidneys and reproductive organs provide much better conductivity than the skull. Major organs have no bone protection like the brain does. To avoid microwave exposure to vital organs and/or fetal development when using a cell phone next to the body, a deflective barrier "RF Safe Pocket or Purse Shield" must be used between the body and cell phone handset itself.
What makes RF Safe shields better than the ones the FTC has taken to court?
In this case size matters, the shields the FTC said were making false claims almost comically used a piece of shielding screen the size of a penny between the user and cell phone.
Coates offers this analogy to penny sized cell phone shields, "It would be like being naked in southern Florida's summer sunshine, applying a penny sized spot of sun block and expecting not to be burnt from head to toe" It's common sense small shields like this provide no protection from cell phone radiation.
RF Safe cell phone shields, at the very minimum, are large as or larger than the surface of the cell phone handset itself. The RF Safe shielding between a cell phone and user can be verify for effectiveness with any hand-held RF meter.
RF Safe has assembled a cell phone radiation safety accessory package to provide the most comprehensive protection from microwave radiation emitted from cell phones.
RF Safe's Safe Cell Phone Package
ABOUT RADIO FREQUENCY SAFE – http://www.RFSAFE.COM
RF SAFE is the world's premier provider of cell phone radiation protection accessories and informational data. Since 1998 RF (Radio Frequency) Safe has been dedicated to evolving the wireless industries safety standards, by engaging in the business of design, testing, manufacture, and sale of safety technologies to mitigate harmful effects of cell phone radiation.