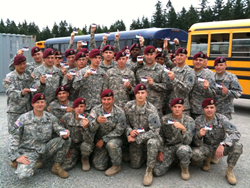 Since 2004, Cell Phones For Soldiers has connected military families by providing more than 204 million minutes of free talk time for troops.
Boston, MA (PRWEB) February 25, 2014
With the recent conclusion of its ninth year, Cell Phones For Soldiers took to the medal podium with continued positive results in 2013 for its programs benefiting military families and veterans.
In 2013, more than 23 million minutes of free talk time were provided through Minutes That Matter, the charity's long-standing calling card program. These minutes were distributed via 380,000 calling cards to United States military members stationed around the world.
Calling cards allow service members to more easily stay in touch with loved ones during deployments, which, according to the Military Benefits Deployment Center, is among the top-five "how to survive deployment" strategies.
Since 2004, Cell Phones For Soldiers has connected military families by providing more than 204 million minutes of free talk time for troops. Military members, family and care package organizations can request cards at cellphonesforsoldiers.com.
Expanding beyond calling cards, the charity broadened its mission in 2012 to include the Helping Heroes Home program to provide one-time emergency needs to help veterans with transitioning to post-combat life. In 2013, the program assisted more than 370 veterans with needs such as communication services; paying for rent to avoid eviction; imperative car repairs; and more.
In nearly a decade, more than 11 million cell phones have been donated to help fund both programs, along with monetary support from individual and corporate supporters.
Cell Phones For Soldiers' co-founders, Robbie and Brittany Bergquist, understand the importance of supporting both active military members and those transitioning to civilian life.
"Each year we're amazed at the number of troops and veterans we're able to assist," said Robbie Bergquist. "We know our troops will always play an important role in peacekeeping missions across the globe and want to afford them with the opportunity to call home for free. It's also important to be there for our veterans as they shift out of the military."
Support for Cell Phones For Soldiers can be provided by:
1. Donating a gently-used mobile phone;
2. Selling a cell phone through the Apple iPhone buyback program;
3. Donating valuable funds.
For more information or to get involved, please visit http://www.cellphonesforsoldiers.com.
ABOUT CELL PHONES FOR SOLDIERS INC
Cell Phones For Soldiers Inc. is a national nonprofit dedicated to providing cost-free communication services to active-duty military members and veterans. Founded in 2004 by Robbie and Brittany Bergquist, then 12 and 13 years old, Cell Phones For Soldiers has provided more than 204 million "Minutes That Matter" to deployed troops. Since 2012, "Helping Heroes Home" has provided emergency funds for more than 400 returning veterans to alleviate communication challenges as well as physical, emotional and assimilation hardships. For more information, visit cellphonesforsoldiers.com, Facebook, Twitter, Google+ and Pinterest pages.