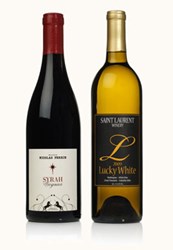 [The] Cyber Monday sale provides premium wines at affordable prices.
Seattle, WA (PRWEB) December 01, 2013
With Black Friday past and the Christmas rush beginning, Cellars Wine Club (CWC) is providing a stress-free solution for wine shoppers this holiday season. Available online on the Cellars Wine Club website, this Cyber Monday sale provides premium wines at affordable prices. The simple code "savebig" is all consumers need to take advantage of this rare savings opportunity.
Applying to the first shipment of the selected wine club, the code greatly reduces overall cost. It's a convenient way to shop and save on an elegant gift. Cellars Wine Club's premium club, for example, has been lowered from $39 to $25 on the first shipment. The prestigious 90+ Point wine club is available for $61 under the same terms. Sophisticated Christmas enjoyment has never been this easy.
The gift of wine is one of the finest that a friend or family member can give. With staff wine experts hand picking the featured wines, Cellars Wine Club is the best option for anyone looking for such a gift. Now, with this exceptional Cyber Monday sales event, wine lovers have access to high quality wines at reduced cost and increased ease.
About Cellars Wine Club:
Based in Washington State, Cellars Wine Club ships wine club deliveries to members all over the US, without added shipping fees. They do not require monthly commitments, allowing those who sign up to switch at any time. Wine club memberships are available from their site in such variety that anyone can find a wine experience that appeals to them and fits their budget.