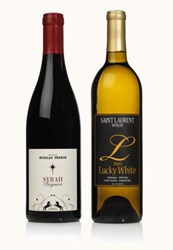 In most cases, classy and delicious wine shipped directly to one's front door (and once every month for the rest of the year) ranks pretty high on the Christmas wish list.
(PRWEB) December 02, 2013
The holiday season is approaching and consumers are searching for the perfect gift. However, like every year, many gifts lack creativity. It's almost inevitable: a lack of ideas will lead to a last-minute gift, which usually ends up being... socks. People should be honest with themselves: they can do better. In a brand new blog article from Cellars Wine Club, The Wine Minstrel argues that givers don't have to find themselves in the awkward giving position, the one that forces a family member to insincerely say they appreciate a gift they didn't ask for. He shows how family members, employees, and friends can avoid this by purchasing a gift that everyone loves: the gift of wine.
Three arguments are made in favor of wine gifts, the first being how wine clubs offer premium wines selected by experts. This ensures that each bottle is high quality and tasteful. This also makes wine club membership a more practical gift than individual wines, since consumers don't need to be educated in wine to pick out a delicious gift for a young enthusiast or a seasoned aficionado.
The second and third points for wine gifts relate to convenience. Online shopping has become more popular each year, and many wine clubs (including Cellars Wine Club) operate exclusively through online purchases shipped straight to consumer's homes. This way, shoppers can avoid the traditional Holiday rush.
Most importantly, the article shows how a wine gift is unlike any other, because it lasts all year round. A club package from Cellars Wine Club can be set to deliver on a recurring basis, such as monthly or quarterly. In that sense, a wine club membership is like a gift that gives all year around. Overall, the article offers convincing evidence that a wine gift certainly is better than a pack of socks.
About Cellars Wine Club:
Based in Washington State, Cellars Wine Club ships wine club deliveries to members all over the US, without added shipping fees. They do not require monthly commitments, allowing those who sign up to switch at any time. Wine club memberships are available from their site in such variety that anyone can find a wine experience that appeals to them and fits their budget. Visit their website at: http://www.cellarswineclub.com/