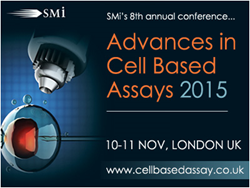 "There are some exciting developments that could be expected in the imaging technologies...awareness, training and an impetus to have these available can be instrumental in making these actioned sooner" Dr Ahmed - Kings College London
London, England (PRWEB UK) 13 July 2015
Dr Ahmed will be presenting an interactive post-conference workshop at SMi's 8th annual Advances in Cell Based Assays event, taking place on 10th - 11th November 2015 in Central London. The workshop entitled: Latest Generation Microscopes in HTS/HCS/HCA for live cell imaging in Cells and Tissue Based Assays, will focus upon cutting edge science and technology in high throughput screening (HTS), high-content screening (HCS) methods and high-content analytical (HCA) tools. Through an interactive session with Nikon UK, experts from King's College and University College, London will discuss and present latest findings and thoughts.
When asked about his research and the collaboration with Nikon, Dr Ahmed said:
"Nikon's NIS-Elements software supports total operation of high-throughput screening by integrated control of Nikon's Eclipse Ti-E motorized inverted microscope and peripheral devices such as well plate loaders and CCD cameras, to image data management. Nikon's newly developed software interface is specifically designed for imaging multiple points within a well and across a well plate, and works with dedicated automated analysis modules."
"Using the JOB drag and drop approach for experiment creation it is possible to construct unique experiments per well. Image processing and analysis functions can be incorporated into the experiment design allowing the user to review data from the experiment and to make conditional imaging decisions based on 'IF THEN ELSE' logic during the experiment. For example: IF the total number of cells identified >= 1000 THEN stop; IF a dividing cell is identified THEN zoom in and image at 40X; FIND tissue sections on a slide; THEN create an aligned tiled image at 40X. Conditional imaging is a powerful tool for reducing selection bias, increasing statistical robustness and allowing unsupervised searching and location"
On what he envisioned for 2016 and beyond Dr Ahmed commented:
"There are tremendous improvements that are likely to occur in computational power to analyse the myriad of gene and protein interactions and how these relate to physiology of organisms, and the cells that are a fundamental constituents of these. There are some exciting developments that could be expected in the imaging technologies particularly. A flavour of these will be discussed at the workshop. Awareness, training and an impetus to have these available can be instrumental in making these actioned sooner. "
The full interview is available to read here.
For those who are interested in attending there is currently a £100 early bird rate available online. For more information or to register visit http://www.cellbasedassay.co.uk
Advances in Cell Based Assays
10th & 11th November 2015
Holiday Inn Kensington Forum, London UK.
http://www.cellbasedassay.co.uk
---END---
About SMi Group:
Established since 1993, the SMi Group is a global event-production company that specializes in Business-to-Business Conferences, Workshops, Masterclasses and online Communities. We create and deliver events in the Defence, Security, Energy, Utilities, Finance and Pharmaceutical industries. We pride ourselves on having access to the world's most forward thinking opinion leaders and visionaries, allowing us to bring our communities together to Learn, Engage, Share and Network. More information can be found at http://www.smi-online.co.uk
About Dr Aamir Ahmed:
Aamir Ahmed was awarded a Wellcome Trust Fellowship at the Department of Physiology, University College London, where he established his research group. This was followed by his appointment as the Head of Stem Cell Group at the Prostate Cancer Research Centre, also at the University College London. He joined the Centre for Stem Cells and Regenerative Medicine, King's College London in January 2015. His biography can be found at:
https://www.kcl.ac.uk/lsm/research/divisions/gmm/departments/stemcells/people/Dr-Aamir-Ahmed.aspx