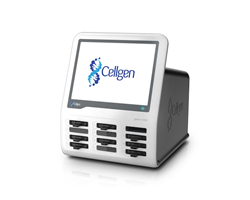 'Extensive research shows Cellgen's detection process works at a deeper genetic level and faster time frame than any other molecular testing device on the market. Now it's time for Cellgen to advance the product to commercialization...'
IRVINE, Calif. (PRWEB) August 19, 2014
Cellgen Diagnostics today launched an Indiegogo campaign to raise $200,000 to fund a corporate lab for its genetic-based medical testing and diagnostic device.
This development is a critical component in the move from today's reactive, one-size-fits-all model of care to the implementation of personalized medicine – a more predictive, preventive, and patient-centric method of practicing medicine.
Indiegogo contributions will support Cellgen's intent to develop the world's first comprehensive point of care (and eventually for home use) molecular testing device. Cellgen's testing device will reduce the waiting time for lab results from hours or days to approximately 30 minutes.
Cellgen's device will be able to provide early detection of bacterial infections and genetic-based diseases such as flu, strep, cancer and heart disease, in many cases even before symptoms begin to surface. This will help ensure the most effective treatment for a patient's specific type of illness or disease, and reduce the number of ineffective or potentially harmful treatments they may receive.
For complete details about Cellgen and examples of applications of this technology, please visit the campaign at: http://igg.me/at/cellgen.
Twelve levels of perks are available to contributors to this crowdfunding campaign and range from $5 to $10,000. A sampling of the perks include an invitation to an online chat with Cellgen inventors, ancestry DNA Kit, a unique piece of artwork based on the contributor's DNA, participation in a clinical trial at Cellgen labs, lab tour and technology demonstrations, dinner with the Cellgen team and naming rights in the lab/offices.
"Imagine, your loved one is admitted to the hospital with an illness and the doctors have no idea what's wrong, but after three days of testing, four different antibiotic regimens and a medical bill more than $150,000, they finally figure it out," said Lavance Northington, CEO of Cellgen Diagnostics. "This is not an unusual story because it happens to millions of families every year in this country. It is estimated that one third of every dollar spent on health care in the U.S. is considered to be wasted dollars."
In addition to the cost of misdiagnosis and/or undiagnosed illnesses, prescription drugs currently on the market on average only work for half of those who take them. Anti-depressants are effective for only 62 percent of those who take them, and among cancer patients, the rate of ineffectiveness jumps to 75 percent. Cellgen technology can play a significant role in drug discovery, development and treatment as the effectiveness varies greatly between people based on a number of genetic and environmental factors.
In partnership with scientists and researchers from the University of California at San Diego (UCSD), Cellgen has achieved proof of concept for its technology and is ready to take the next step forward and open its own lab. To complete the research necessary to obtain FDA approval, the company needs to adhere to strict regulations that are not conducive to a university lab environment.
"Extensive research shows Cellgen's detection process works at a deeper genetic level and in a faster time frame than any other molecular testing device on the market," said Northington. "UCSD's proof of concept work has made this next step possible. Now it's time for Cellgen to advance the product to commercialization and we are asking for your help."
Once Cellgen opens its own corporate lab, it will begin to engineer and design the final product meant for commercialization, as well as begin clinically validating the efficacy of the device. This clinical study will be in partnership with Johns Hopkins University.
About Cellgen Diagnostics
Cellgen Diagnostics is developing a highly sensitive and accurate molecular diagnostic platform to provide gene expression analysis for research and discovery and for the detection of Infectious Pathogens and diseases in blood and other biological fluids for clinical applications. Based in Irvine, California with R&D facilities located on the campus of University of California, San Diego (UCSD), Cellgen's core platform is based on a portfolio of patent pending technologies exclusively licensed from UCSD.
Designed as an open platform able to detect any and all nucleic acid signatures, this detection platform will offer one of the fastest and most sensitive methods available, detecting concentrations as low 1fM. This level of sensitivity enables the detection of nucleic acids in less than 30 minutes, as compared to 8 hours and in some cases days with conventional methods.
For more information, please visit cellgendx.com.