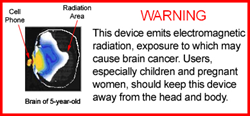 This device emits electromagnetic radiation, exposure to which may cause brain cancer. Users, especially children and pregnant women, should keep this device away from the head and body
San Francisco, CA (PRWEB) March 24, 2014
RF Safe, the world's leading provider of proven cell phone radiation safety solutions has issued a consumer alert that "cell phones carried in a pocket, purse or on a belt may harm reproductive health."
RF Safe's Founder, John Coates says "Many men who talk on a cell phone using a Bluetooth device or other headset keep the phone in a pants pocket or clipped to a holster. This exposes their reproductive organs to cell phone radiation, and several studies have found lower sperm count and/or poorer sperm quality in men who use their phones this way than in those who do not."
All cell phones sold in the USA have to be within acceptable safe radiation out put guidelines established under Specific Absorption Rate (SAR) guidelines. This test refers to the rate at which the body absorbs RF energy. SAR limits are 1.6 Watts per kilogram (over a volume containing a mass of 1 gram of tissue) in countries that follow the United States FCC limits
What has become a concern of lawmakers in Hawaii and Maine is that if the cell phone is held closer then specified in the owners manual, in many cases up to 5/8 of an inch from the body - cell phone radiation levels can exceed the FCC safe levels for human exposure.
D-Sen. Josh Green of Kona, Ka'u introduced Senate Bill SB 2571, a measure calling for cell phones sold in Hawaii to come with a prominent health warning -- similar to what smokers see on the sides of cigarette packages to warn them of danger.
The original version of Senate Bill SB 2571 would have required the label to read, "This device emits electromagnetic radiation, exposure to which may cause brain cancer. Users, especially children and pregnant women, should keep this device away from the head and body."
Coates says "When a cell phone is attached to a belt or in a pocket/purse radiation can penetrate the area near the cell phone handset. This radiant energy is absorbed much faster than at your head because tissues and organs such as liver, kidneys and reproductive organs provide much better conductivity than the skull. Major organs have no bone protection like the brain does. To avoid microwave exposure to vital organs and/or fetal development when using a cell phone next to the body, a deflective barrier "RF Safe Pocket Shield, Purse Shield or Flip Case Shield" must be used between the body and cell phone handset itself to prevent excessive cell phone radiation levels from exceeding the FCC's SAR guidelines."
RF Safe suggest starting with a cell phone with the lowest radiation levels and than getting into a habit of using important cell phone radiation safety accessories.
To learn what you can do to protect you and your loved-ones from excessive cell phone radiation levels visit http://www.rfsafe.com