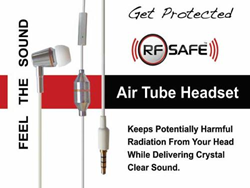 parents must ensure their children are provided RF safety accessories (no different then buying a helmet with a skateboard) and taught the safest habits for using a cell phone safely.
(PRWEB) March 17, 2014
According to RF Safe, In the last 30 Days both Hawaii and Maine have passed milestone bills for informing consumers on the hazards of cell phone radiation.
2/20/2014 Hawaii Senator Calls for Cell Phone Radiation Warning Labels on Cell Phones
3/11/2014 Maine House of Representatives Approve of Cell Phone Warning Labels
"Protecting your children from excessive cell phone radiation exposure is very easy to do with very simply accessories," says Coates, who also claims research in 1997 attributed RF radiation exposure to the birth defect that took the life of his daughter Angel Leigh Coates in 1995. It was 3 years after this life changing event in 1998 when he Founded the company and website http://www.rfsafe.com. With a mission to inform the public on the hazards of microwave exposure and the best ways to reduce the risk
Coates pleads with expecting mothers to avoid microwave radiation exposure. He stresses that parents must ensure their children are provided RF safety accessories ( no different then buying a helmet with a skateboard) and taught the safest habits for using a cell phone safely.
RF Safe has assembled a cell phone radiation safety accessory package to provide the most comprehensive protection from microwave radiation emitted from cell phones.
RF Safe's Safe Cell Phone Package
This technology utilizes a state-of-the-art enhanced sound chamber which delivers crystal clear sound through an air-filled wireless tube (similar to a doctor's stethoscope). By replacing the wire with air tube acoustic technology, the RF Safe Headset reduces RF exposure to the head.
Custom Molded – Lightweight Earpiece
RF Safe's lightweight air tube acoustic technology sound delivery
State-of-the-art sound chamber with enhanced acoustic technology
RF Shielded Expansion Cord
The RF Safe air tube headset incorporates some of the most durable electronic components on the market today. Sleek and sophisticated in design, the RF Safe Air Tube Headset is the new standard by which all new radiation safe headsets will be measured.
As cell phone use has greatly increased throughout the world so do concerns about the potential health effects of electromagnetic radiation. The RF Safe Air Tube Headset was developed with these issues in mind.
Sophisticated, durable, comfortable and most important RF Safe.
The stylish RF Safe air tube headset is available in 2.5mm or 3.5mm versions, with earbud mono and stereo designs which will fit most cell phones and smart phones.
This hands-free headset with air tube technology is designed to keep potentially harmful radiation away from your head. Using an air-tube to conduct the sound, there is no electrical components conducting sound to your head. Much like a doctors stethoscope, only an air tube is used to conduct sound to the earpiece.
2) RF Safe Clamp-on Ferrite Bead
Wires or cables connected/extending from electronic devices using radio waves (such as cell phones), if not shielded will emit over ambient RF radiation levels. To suppress high frequency RF radiation from interacting with sensitive electronics and cell phone users, RF Safe offers a line of clamp-on ferrite suppressors. "Our ferrite aims to effectively shield the harmful electromagnetic fields from traveling along computers wires, electric wires and cell phone headsets wires that come in contact with your body." says John
3) RF Safe Universal Pocket Shield or Rf Safe Flip Cover Shield
When a cell phone is attached to a belt, or in a pocket/purse radiation can penetrate the area near the cell phone handset. This radiant energy is absorbed much faster than at your head because tissues and organs such as liver, kidneys and reproductive organs provide much better conductivity than the skull. Simply put most major organs have no bone protection like the brain does. To avoid microwave exposure to vital organs and/or fetal development when using a cell phone next to the body, a deflective barrier "RF Safe Pocket or Purse Shield" must be used between the body and cell phone handset itself.
Remember…
Better RF Safe Today…Than Sorry Tomorrow!
About Radio Frequency Safe – http://www.rfsafe.com
RF SAFE is the world's premier provider of cell phone radiation protection accessories and informational data. Since 1998 RF (Radio Frequency) Safe has been dedicated to evolving the wireless industries safety standards, by engaging in the business of design, testing, manufacture, and sale of safety technologies to mitigate harmful effects of cell phone radiation!