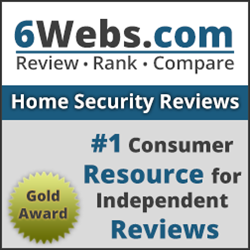 View the latest cellular home security systems available and compare them side-by-side on 6Webs.
Newark, NJ (PRWEB) January 19, 2014
6Webs.com, the independent home security systems reviews website, releases their picks for the top home security system companies that offer cellular-based home security systems. Cellular monitoring has become more popular in recent years due to its wireless technology. When cellular monitoring is combined with a wireless home security system, customers have a 100% wireless system that cannot be circumvented by a burglar simply cutting phone or Internet lines from outside the home.
The top cellular home security system packages can be compared online at 6Webs.com at:
http://www.6webs.com/best-home-security-systems/
According to the Tim Smythe, the senior editor for 6Webs.com, "Each year there are several categories that 6Webs.com awards and one of the most popular categories is cellular monitoring services. Cellular monitoring appeals to a large amount of consumers because of its added safety and reliability when compared to traditional home security system monitoring services."
The award for the best cellular home security system goes to FrontPoint Security. FrontPoint Security is one of the only companies that the 6Webs.com reviews team found that only offers 100% cellular monitoring services. FrontPoint Security is a national home security systems provider and is headquartered close to the nation's capital in Northern Virginia.
The top three home security companies ranked on the 6Webs.com all provide cellular monitoring services. The 6Webs.com reviews team encourages consumers who are in the market for a home security system to compare the various features and services available from each company. Their offerings included services change from company to company and what fits one customer might not be the best solution for another. A complete comparison of equipment, business ratings and dozens of other factors can be viewed online at:
6Webs.com - Home Security Systems Comparison
About 6Webs.com
6Webs.com is the leading home security systems reviews website that conducts annual evaluations of dozens of home security companies. Each company is individually rated by the home security systems reviews staff at 6Webs.com on over 13 different factors including business ratings, customer service, monitoring technology and equipment packages to name a few. In addition to providing the best security system comparisons in the market, 6Webs.com also publishes educational information on their website to help consumers keep their homes and families safe.