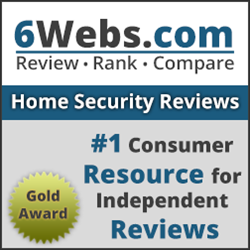 Compare the leading home security providers online at 6Webs.com.
Cleveland, OH (PRWEB) September 06, 2013
6Webs is the leader in home security systems reviews. The simple to read reviews and detailed comparisons help make 6Webs.com the useful resource consumers choose for unbiased and independent home security reviews. Recently finishing the home security systems reviews for cellular monitoring services, 6Webs.com has published the final results on their website.
http://www.6webs.com/best-home-security-systems/
Tim Smythe from 6Webs.com states, "The 6Webs.com team learned that consumers had been concerned with safety and many consumers preferred wireless burglar alarm with cellular-based monitoring mainly because there aren't any wires at risk outside the home. Cellular monitoring is considered the requirement in safety for the brand-new type of home security systems."
The best cellular home security monitoring services company is FrontPoint Security. FrontPoint Security delivers outstanding service to their customers and gives customers a 30-day money back guarantee. Aimed at providing customers with wireless home security systems from GE Security along with interactive cellular monitoring services has made FrontPoint Security a favorite among buyers. Close to FrontPoint Security, the two other top rated home security providers are Protect America and ADT Security. Protect America pioneered the do-it-yourself or DIY home alarm system and has been in business for over 20 years. ADT Security is the clear leader when it comes to professionally installed home security systems. ADT Security provides their customers with brand name equipment and has a number of plans and services from which to choose.
To look at the features and the services of the best alarm system companies visit 6Webs.com at:
6Webs.com - Best Home Alarm Systems
About 6Webs.com
6Webs.com is dedicated to delivering buyers with the best home security alarm system information available. 6Webs.com stacks up the capabilities and services of the top home security companies so consumers can quickly select the best security system for their family. Aimed at delivering independent reviews and side by side comparisons, 6Webs.com also puts out informative advice related to home security and safety to help families lead a healthier and more secure lifestyle. Visit 6Webs.com for additional info on the top home alarm system companies.