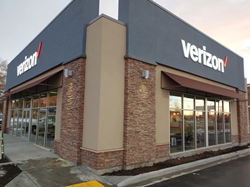 Giving our customers accessibility to a wonderful face-to-face experience is our goal with our new Ogden store.
OGDEN, Utah (PRWEB) February 08, 2019
Cellular Sales, the largest independent Verizon Wireless retailer by volume, announces their expansion in Utah with a new store in Ogden. Over the next year, the store is expected to add new jobs within the local community.
On January 26, the store located at 12th Street and Lincoln Avenue welcomed its first customers. This is Cellular Sales' sixth store in Utah but their first store in Ogden.
"We are proud to continue our expansion within the great state of Utah," said Cellular Sales Regional Director Colby Smith. "Giving our customers accessibility to a wonderful face-to-face experience is our goal with our new Ogden store."
The store currently employs six team members with plans to add at least ten new team members as the store continues to grow over the next year.
Cellular Sales has grown significantly over the past 25 years, due to their innovative approach to customer service. It has been named on Inc. Magazine's 5000 list of the fastest growing companies nine times, achieving Hall of Fame status.
To ensure that new team members can become an integral part of the team and are equipped with the best possible tools for success, recruits train with senior sales reps for four to six weeks, before selling on their own. Team members are encouraged to view themselves as entrepreneurs with the support of an established, successful company backing them up.
The U.S. Bureau of Labor Statistics expects demand for retail sales jobs to grow over the next decade and sales experience will be valuable. Cellular Sales understands the value of great training and support from a personal and professional development point of view.
"Cellular Sales' team members are known for their attentive customer service," said Cellular Sales Regional Director James Russell. "We look forward to providing impeccable customer service through our new excellent team members."
Cellular Sales seeks to hire individuals with a passion for customer service to work at its 12th Street store in Ogden. Those interested in applying for jobs at this Cellular Sales location may contact Cellular Sales Recruiter Daniel Rossi at (315) 264-6515 or daniel.rossi(at)cellularsales(dot)com.
About Cellular Sales
Headquartered in Knoxville, Tenn., Cellular Sales was founded in 1993 and has been named to Inc. Magazine's 5000 as one of the nation's fastest-growing privately owned retailers for nine of the past 10 years, something only 0.5 percent of companies on that list achieve. The company currently employs 7,200 people and operates over 700 stores nationwide across 41 states. Job seekers may visit jobs.cellularsales.com. For more information on the company, visit cellularsales.com.