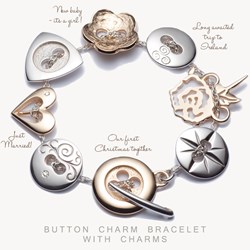 Kick off your holiday shopping with 15% off designer Irish jewelry at CelticPromise.com
New York, NY (PRWEB) October 22, 2013
Leading Irish jewelry retailer 'Celtic Promise' is kicking off their holiday shopping season early this year by offering 15% off jewelry by award winning designers Button & Co. Their unique charm jewelry, inspired by a mother's rusty old button tin, is a unique alternative in a market that has become saturated by beaded charm jewelry designs.
Button & Co. encapsulates a concept, inspired by a tradition many people worldwide relate to. "Button & Co. was inspired by my mother's rusty old button tin." Says Button & Co. founder and goldsmith Elaine-Sarah Comerford, "The buttons were cut off our baby clothes as we outgrew them, creating a collection of precious memories." And so inspired, Comerford created a collection of silver and pearl jewelry to represent and celebrate people's memories.
Button & Co.'s signature Memory Bracelets feature a patented button and needle clasp design, with silver and gold button charms which slide onto the bracelet to celebrate precious life moments as they happen. Celtic Promise also stocks a handpicked selection of handcrafted pendants, charms and modern pearl jewelry by the designer.
All Button & Co. jewelry is cast, filed, sanded and individually handmade in the designer's studio in Dunhill, County Waterford Ireland. The iconic design that is Button & Co. is instantly recognizable and is specially designed for those who have a love for all things unique and of high quality.
"Holiday shopping can get pretty manic for everybody", says Celtic Promise co-founder Siofra Hill. "We hope to entice shoppers to get organized early this holiday season. It's a win-win situation for all!"
The store's '15% Off Button & Co. Jewelry' promotion starts Wednesday 23 October and runs until midnight on Sunday 27 October. More information about the promotion is available on the Celtic Promise website.
Discover more at CelticPromise.com.
About Celtic Promise
Launched in 2011, online retailer Celtic Promise was started by Irish born entrepreneur Siofra Hill. The website CelticPromise.com promotes the talents of Irish jewelry designers to an International audience. With a product offering of over 700 traditional Celtic jewelry and contemporary Irish jewelry products, Celtic Promise has quickly become one of the leading Irish jewelry companies selling online in the US and Internationally.