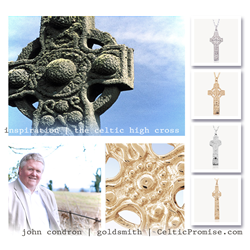 Whether a statement of Faith or Fashion, the Celtic Cross remains the most iconic of jewelry designs.
New York, NY (PRWEB) April 20, 2014
Ireland, the 'Land of Saints and Scholars', is a known as a country rich in craftsmanship and a strong monastic tradition. As a legacy of this rich cultural heritage, leading Irish jewelry store 'Celtic Promise' has curated a collection of beautiful Celtic Cross and Irish Cross pendants for sale online. Here, the store's co-founder Siofra Hill takes time to explain the meaning behind some of the hand crafted designs that feature prominently in her online store.
The Celtic Cross: "Whether a statement of faith or fashion, the Celtic Cross remains one of the most iconic cross designs," says Hill. As Christianity took hold with the arrival of St Patrick in the 5th Century, it is said that he combined the symbol of Christianity with the symbol of the sun, as worshiped in pagan Ireland. Many of Ireland's Celtic crosses, such as the Kells Cross and the Clonmacnoise Cross, are unique in their intricate engravings of interlaced Celtic knot patterns, integrating ancient Irish craftsmanship with their new Christian beliefs.
Brigid's Cross / St Bridget's Cross: Ever popular on the Celtic Promise website are the Brigid Cross pendants by leading Irish designers Breda Haugh. A small cross traditionally made from rushes, which features a woven square center with four tied ends, Irish legend is that St Bridget first fashioned this cross from rushes for a dying chieftain. Today the cross is often hung in Irish homes as it is said to ward off fire and evil.
Stone Cross: Inspired by the monastic settlement on Innismurray off the coast of her native County Sligo, award winning goldsmith Martina Hamilton has crafted a collection of silver cross pendants including the Innismurray Cross and the Pebble Cross. Featuring simple cross engravings, these solid silver pendants are reminiscent of the rugged engraved boulders dotted around the ancient monastic settlement on this remote Irish island.
Ogham Cross: For those seeking a more modern silver cross design, be inspired by the Ogham engraved Modern Faith Cross by Dublin based designer Paul O'Neill. Ogham is the ancient linear script where a series of lines grouped together represent the alphabet we know today. "Combining sleek modern design with ancient tradition of ogham and the Celtic Trinity knot, this cross is perfect for someone looking for a totally unique Celtic cross" advises Hill.
Staying true to its ethos of 'heritage jewelry with a contemporary twist,' Celtic Promise aims to spread the story of Irish jewelry design by showcasing a range of traditional and modern Celtic Cross designs by some of Ireland's leading goldsmiths.
Discover more at CelticPromise.com.
About Celtic Promise
Founded in 2010, Celtic Promise was started by Irish born entrepreneur Siofra Hill. The website CelticPromise.com promotes the talents of Irish jewelry designers to an International audience. With a product offering of over 700 traditional Celtic jewelry and contemporary Irish jewelry products, Celtic Promise has quickly become one of the leading Irish jewelry companies selling online in the US and Internationally.