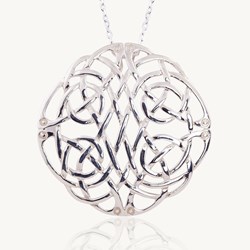 Celtic knot symbolism and meaning - the story behind iconic Irish jewelry design
New York, NY (PRWEB) September 30, 2013
Ireland, the 'Land of Saints and Scholars,' is known as a country rich in craftsmanship and storytelling. Some of its most famous icons are the Celtic knot designs, intricate interlaced patterns which famously feature of the country's historic monuments and ancient manuscripts. Irish jewelry retailer Siofra Hill, co-founder of leading online store 'Celtic Promise,' takes time to explain the meaning behind some of the Celtic knot designs that prominently feature in her online store.
The Trinity Knot or Triqueta - Whether a symbol of the relationship between Father, Mother and Child, the religious Holy Trinity or the marking of the Past Present and Future of someone's life, the eternal three pointed knot has become a simple but striking symbol of things and persons that are threefold. "A modern interpretation is the promise to love, honor and protect," adds Hill, "making the Trinity knot particularly popular for engagement and wedding ring design."
The Celtic Cross Knot - The interlaced pattern of Celtic knots are most commonly associated with religious manuscripts and crosses still dotted around Celtic lands. Whether a statement of Christian faith or of fashion, the Celtic Cross with its intricate Celtic Knot designs, has become a symbol of national identity - particularly for those of Irish, Scottish or Welsh heritage.
The Eternal Knot - With no beginning and no end, the eternal or endless knot design has become a popular representation of never ending love and friendship. Due to its infinite path, this knot has also been used as a Celtic charm to ward against sickness or mishaps that may otherwise interrupt a calm and balanced life.
Modern Celtic Knots - Contemporary Irish jewelry designers have re-interpreted the ancient tradition of interlaced knot work and combined it with modern symbols such as the Celtic Love knot, representing eternal love, and Celtic Butterfly design representing growth and rebirth.
Staying true to its ethos of 'heritage jewelry with a contemporary twist,' Celtic Promise aims to spread the story of Irish jewelry design by showcasing a range of traditional and modern Celtic Knot designs by some of Ireland's leading goldsmiths.
Discover more at CelticPromise.com.
About Celtic Promise
Founded in 2010, online retailer Celtic Promise was started by Irish born entrepreneur Siofra Hill. The website CelticPromise.com promotes the talents of Irish jewelry designers to an International audience. With a product offering of over 700 traditional Celtic jewelry and contemporary Irish jewelry products, Celtic Promise has quickly become one of the leading Irish jewelry companies selling online in the US and Internationally.